In one week already, we are doing our first 1st-category climb in the Pyrenees during our self-supported duo-ride from the Mediterranean to the Atlantic coast (see the route in the previous post). Besides having a good route, with hotels booked for every night and transportation arranged for the first and last day, riding with a carefully assembled kit is the most crucial ingredient to our plan. So what do we need? Mostly clothes on and off the bike, tools and spares to repair a flat or replace a worn component, etc. Since we are going to bike through the Pyrenees (for dummies: a mountain range between France and Spain containing mountain passes over an altitude of 2000 metres, and weather that might change from sunshine to hailstorm over the course of five minutes), we need to be prepared for bad weather too even in June, which again calls for a few extra pieces of gear. Moreover, living in the 21st century, we 'need' some electronics, chargers, etc., mainly to recored our epic adventures. And on top of everything, we have to carry everything ourselves, since we don't have a follow-car, or an organisation transporting all our crap from one stage to another for 9 days. Then come the aesthetics: we are not taking trekking bikes with massive racks filled with a ton of gear, because we want to keep it light and because racing bikes themselves are light, fast, and most importantly, pretty to look at. So we really only take what is absolutely necessary, this way sitting on the bike will still feel like just being out on a normal ride with a race bike. All in all, the following picture contains every piece of gear I will have with me during the ride.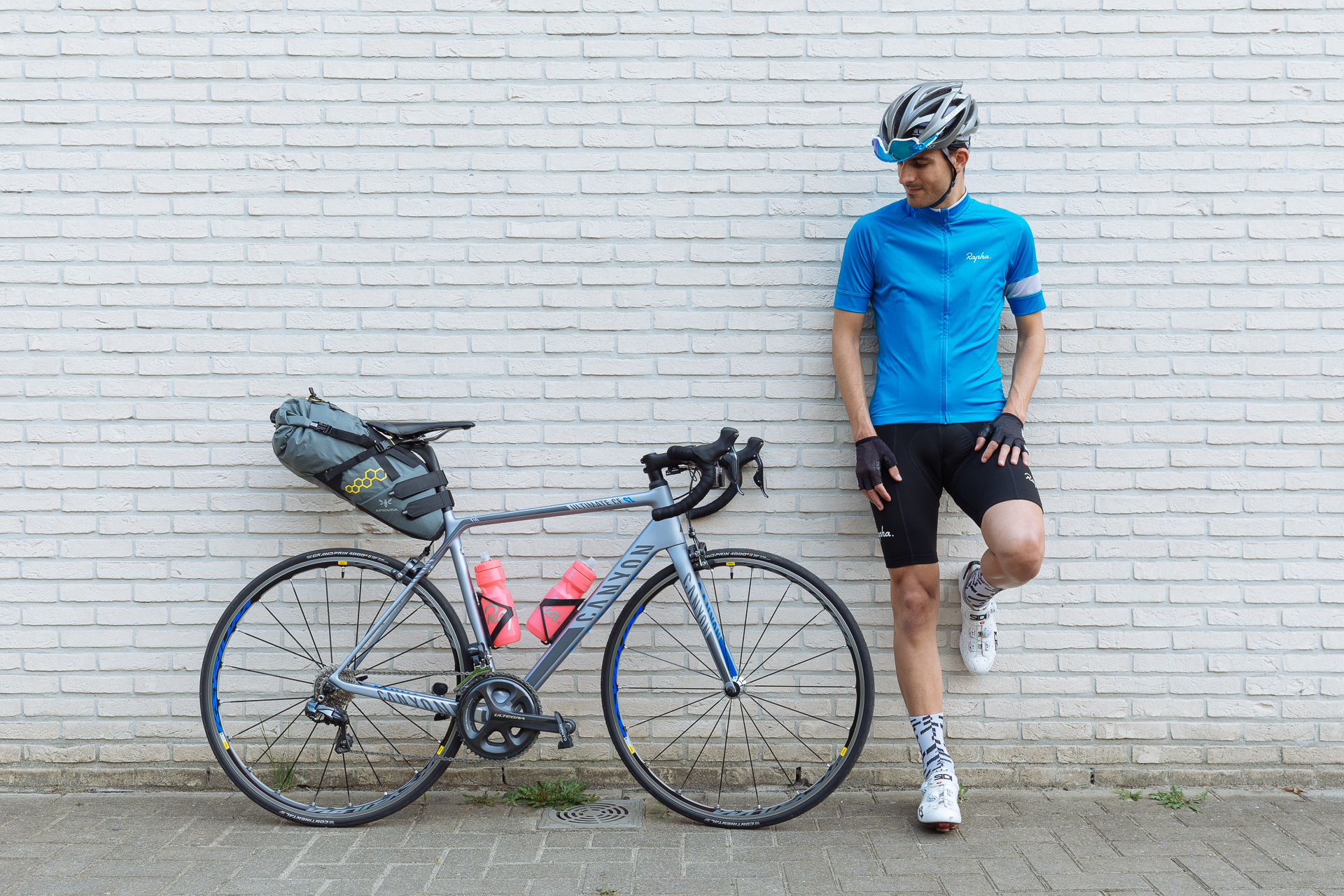 Does not seem so much, right? We are using the regular size saddle pack from Apidura to carry our equipment, which adds an extra 3.6 kg to the bike with all our kit packed inside. We will have one set of normal clothes for going to a restaurant on the evenings, and two sets of cycling kit, so if we wash one after a ride and it does not get dry by the next morning, we still have something to wear (or if we crash and tear one bib, we have a backup…). Here is a full overview of the whole kit (obviously, the bike and the saddle bag is not on the picture):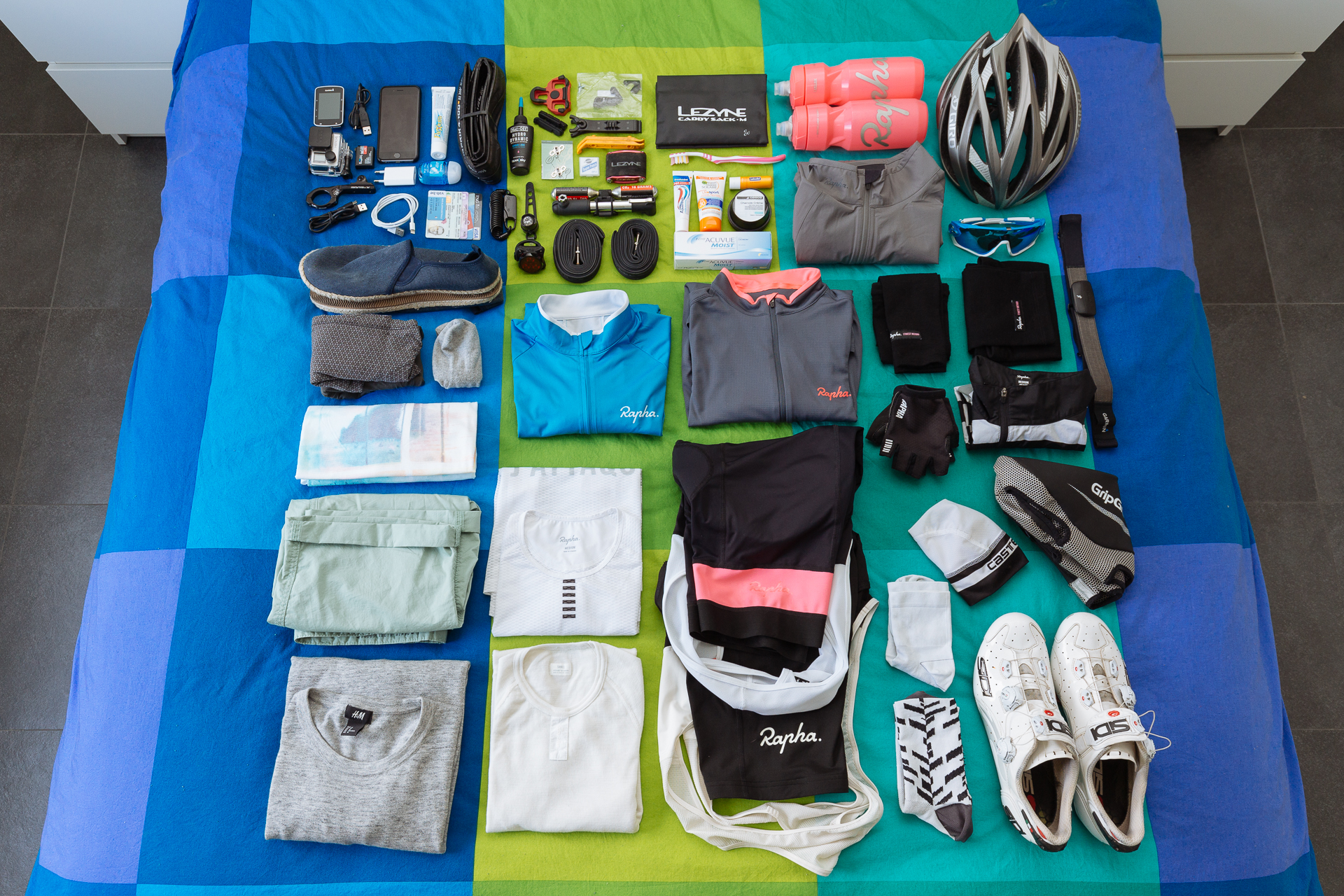 And a detailed list of everything that we are taking:
– 1 bike (Canyon Ultimate CF SL 9.0 Di2, with fully charged Di2 battery)
– 1 pair of cycling shoes (Sidi Wire)
– 2 pairs of cycling socks (Rapha; one Lightweight one 'Data Print')
– 2 bibs (Rapha; one Classic, one Lightweight)
– 2 base layers (Rapha; one Pro Team, one Merino)
– 2 jerseys (Rapha; one Team Sky Training Jersey, one Lightweight)
– 1 pair of gloves (Rapha Pro Team Mitts)
– 1 set of normal clothes (light sweater, shorts, T-shirt, 2 boxers, socks, light shoes)
– cycling cap (Castelli)
– cycling glasses (Oakley Jawbreaker)
– helmet (Giro Ionos)
– HR strap (Garmin)
– arm warmers (Rapha Merino)
– knee warmers (Rapha Merino)
– rain jacket (Rapha)
– gilet (Rapha Brevet)
– waterproof overshoes (GripGrab RaceAqua)
– contact lenses
– chamois creme (Assos, but in a smaller container)
– sunscreen
– 2 bottles (Rapha)
– saddle bag (Apidura)
– small front and rear lights (Bontrager Glo Headlight and Lezyne Led Zecto Drive)
– compact bike lock (BBB Cycling MicroSafe)
– 2 dry bags (Lezyne Caddy Sack; one for phone+IDs in jersey pocket, one for electronics)
– 2 inner tubes (Continental)
– outer tire (Continental Grand Prix 4000 S II 23 mm)
– mini pump (Topeak HybridRocket RX + two CO2 cartridges)
– tube patch kit (Park Tool Super Patch)
– multi tool (Lezyne, with chain tool)
– custom spoke key for my wheels (Mavic)
– 2 quick links (KMC Missing Link)
– spare rear derailleur hanger (specific for my bike)
– 2 spare brake pads (Shimano R55C4)
– spare cleat (Garmin Vector)
– chain oil (Muc-Off Hydrodynamic Lube)
– IDs, insurance cards, VISA
– toothbrush and toothpaste
– Flexium gel + some general pain killers (not on the picture)
– iPhone 6S + charger cable + USB adapter (with data roaming plan)
– Garmin Edge 520 + charger cable (with daily routes, empty memory, map of Pyrenees)
– GoPro HERO4 Silver + K-Edge mount + charger cable + 2 batteries + SD cards (64+32 GB)
– all booking documents and so in an electronic form on my phone
Besides these, we will have with us, but leave it in the car before the start:
– floor pump (nice to start with good pressure)
– a fresh set of clothes to change into for the ride home
– glasses
– bars, gels, and drink powder for the first (or first two) days, then we buy what we need
– shaving equipment (because after 9 days of not shaving, I will look like a hipster/hobo)
We are pretty much ready to go. I have already installed a new chain, a new cassette, cleaned the bike, and before we leave, I will still put in new batteries to everything that needs batteries (power meter, HR strap, speed sensor, front light), charge the Di2, install new cleats, and brake pads. I also need to take some cash out so we can pay at tiny shops along the road. I will sync the clock in the GoPro to the GPS time, so editing videos with metrics overlaid gets a bit easier. And some minor things like, cutting toe nails, putting the map and routes in my Garmin, and not forgetting our train ticket for the transport before the first stage. We will most likely not blog from the Pyrenees, but we will upload our rides to Strava, and most likely at least a few pictures to Instagram too. T-5 days and counting!