I was thinking about building a custom titanium or steel bike for a while already (partly motivated by this article too), but so far I always settled for buying a factory model from Canyon (with admittedly zero regrets). But after riding the Canyon Endurance CF SLX DISC 9.0 SL for a half year, I realised something: there are no upgrades possible from such a top-of-the-line model (and really, I would not even want anything else, this bike is a dream to ride), so if I want another bike at one point, then I could go for a totally new experience this time. So the idea of building a bike from scratch was born.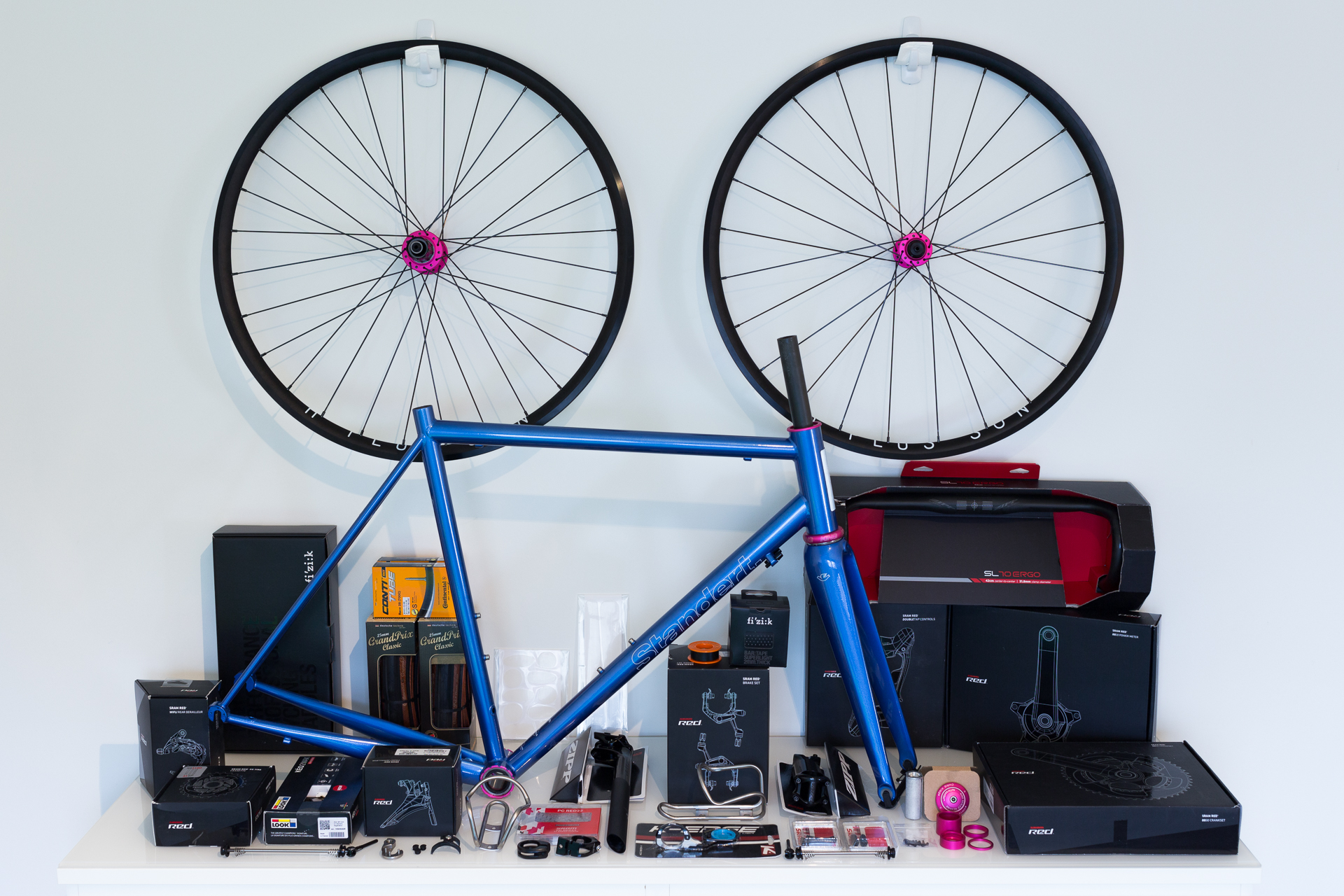 I wanted to experience how building a bike and picking out all the right components makes me feel like. And I also wanted to build a bike that is simply very pretty to look at :) I was sure that I want something more classic looking (so externally routed cables and rim brakes), but I was not really decided between titanium and steel for quite a while. I did not want to buy a too expensive frame set, because I knew that I would still pour way too much money into the rest of the components, so I was looking at more reasonably priced options.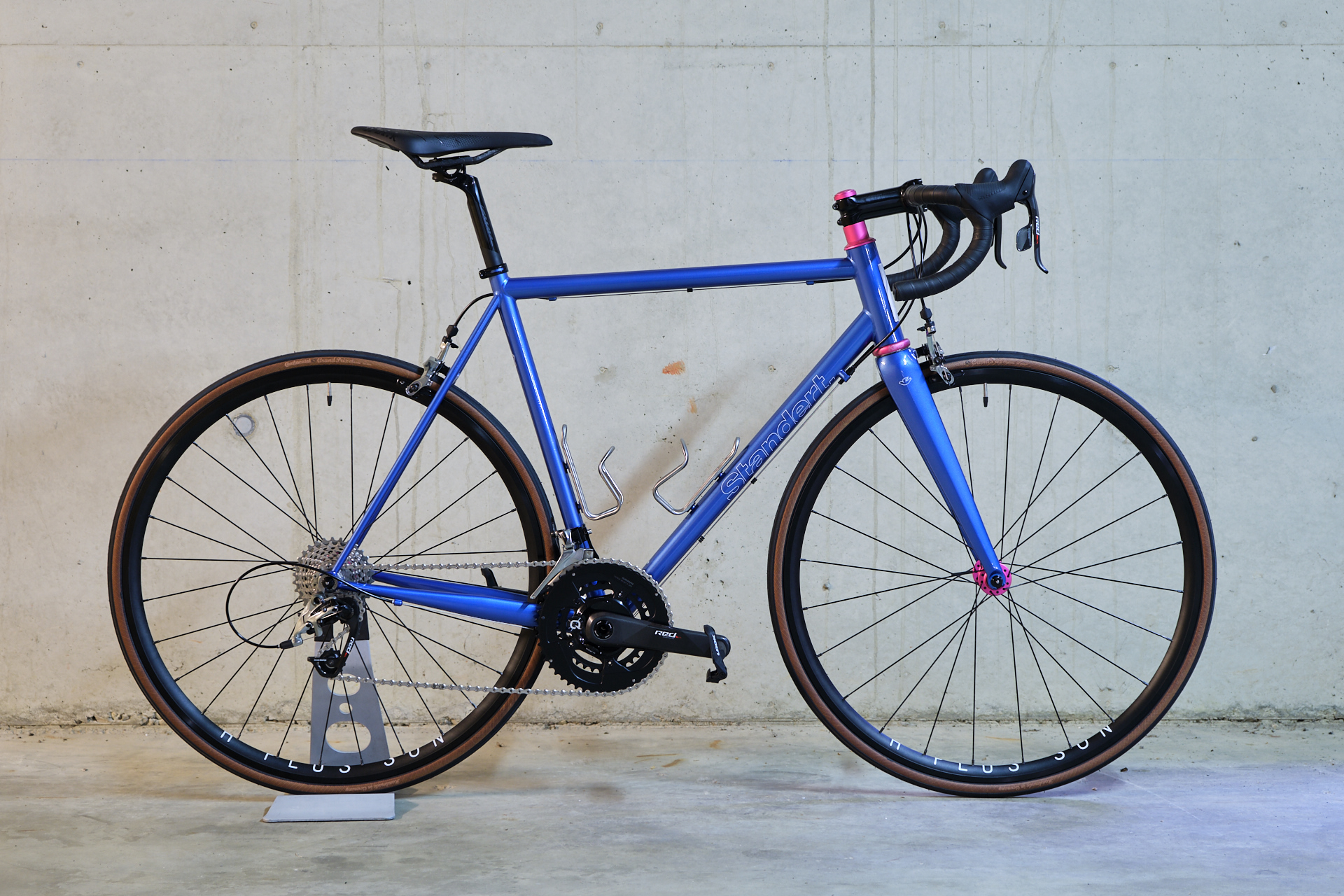 At the end I choose the Triebwerk Mach3 frame from Standert, for multiple reasons. The frame had a very similar geometry to my previous road bike (the Canyon Ultimate CF SL 9.0 Di2), it was metallic blue, was very classic looking with minimal branding (plus a waving kitten), and most importantly it came with high-quality Chris King parts (headset and bottom bracket). Also, it was possible to ask the Chris King parts in matte punch colour (a.k.a. pink). I bought the frame in October right after selling the Ultimate for a still very good price.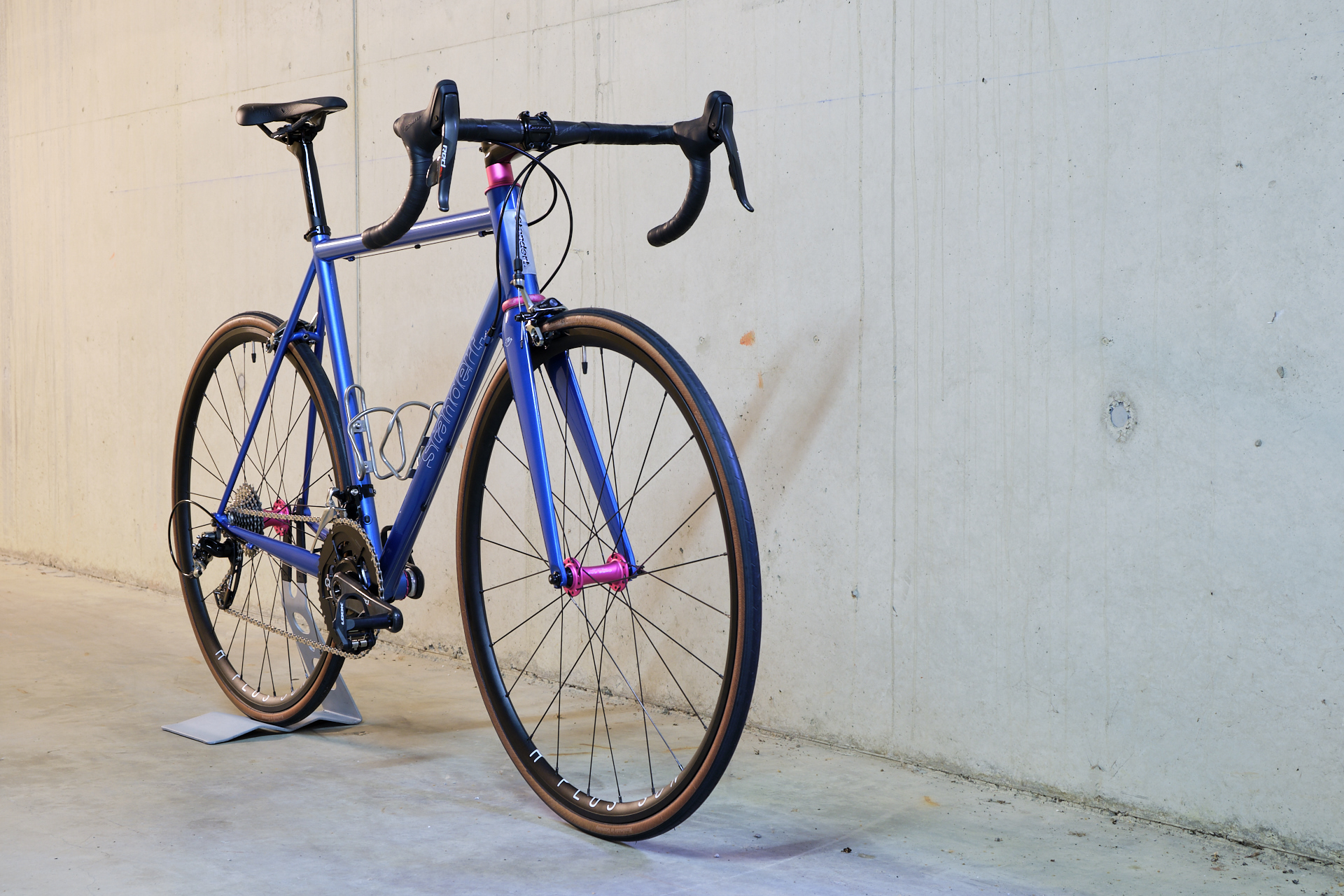 First I just wanted to put on the lightest possible components and some light and cheap HUNT wheels, but soon I made up my mind and decided that I will go for the maximum bling-factor, letting the costs and weight go a bit higher, but creating something that I can be fully satisfied with. This meant having wheels also built from scratch, using matching coloured Chris King hubs (that cost a fortune, and takes ages to have them delivered from the USA). At the end I went almost 50% over the initial price limit, but luckily it took me almost 3 months to get all the components, so it did not feel so bad after all. I had the wheel itself built up by the owner of Fietsen King, whom I already known from earlier (via biking, Instagram). (They also cut my fork at the end, but these were really the only things that were done by someone else than me.)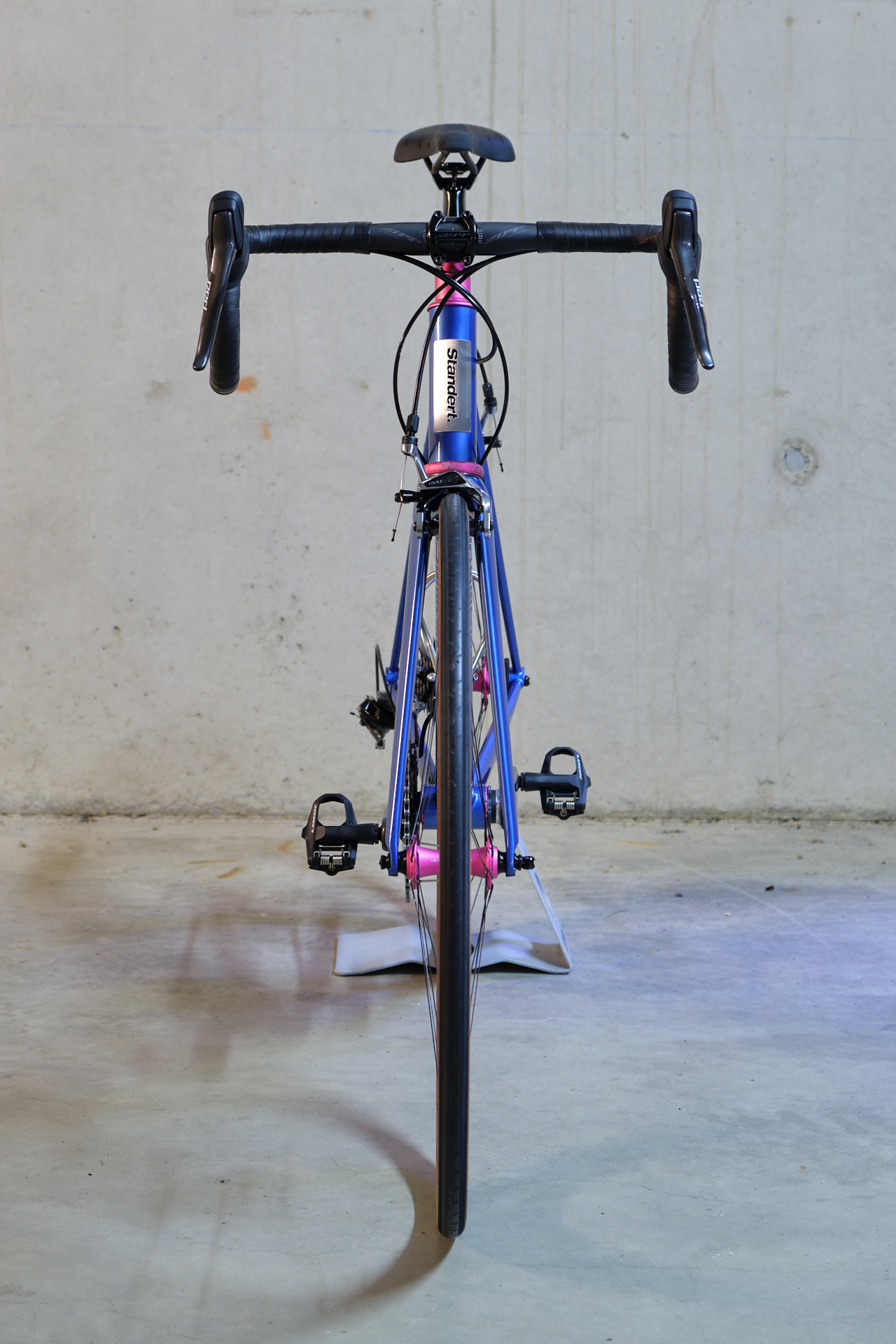 The easiest part of the puzzle was choosing the groupset: since all my other bikes have SRAM components, and I wanted the lightest option, there was no question that it will be SRAM Red 22. (Originally I was not going to put a power meter on, but then I could not resist so this purchase was further inflated by a SRAM Red DZero crankset).
Deciding about the chainring and cassette combination took a bit more time, but at the end I went for a 50/34 combined with a 11-30, since it gives the same easiest gear as the 52/36 & 11-32 on my Endurance (which I really appreciate on the steepest climbs), but it has a better coverage in the 30-32 km/h range (I don't really like the big jump from 52/22 to 52/19 on the Endurance, here in the same range the jump from 50/21 to 50/19 is nicer, overall the spacing on the 11-30 cassette seems better to me than on the 11-32).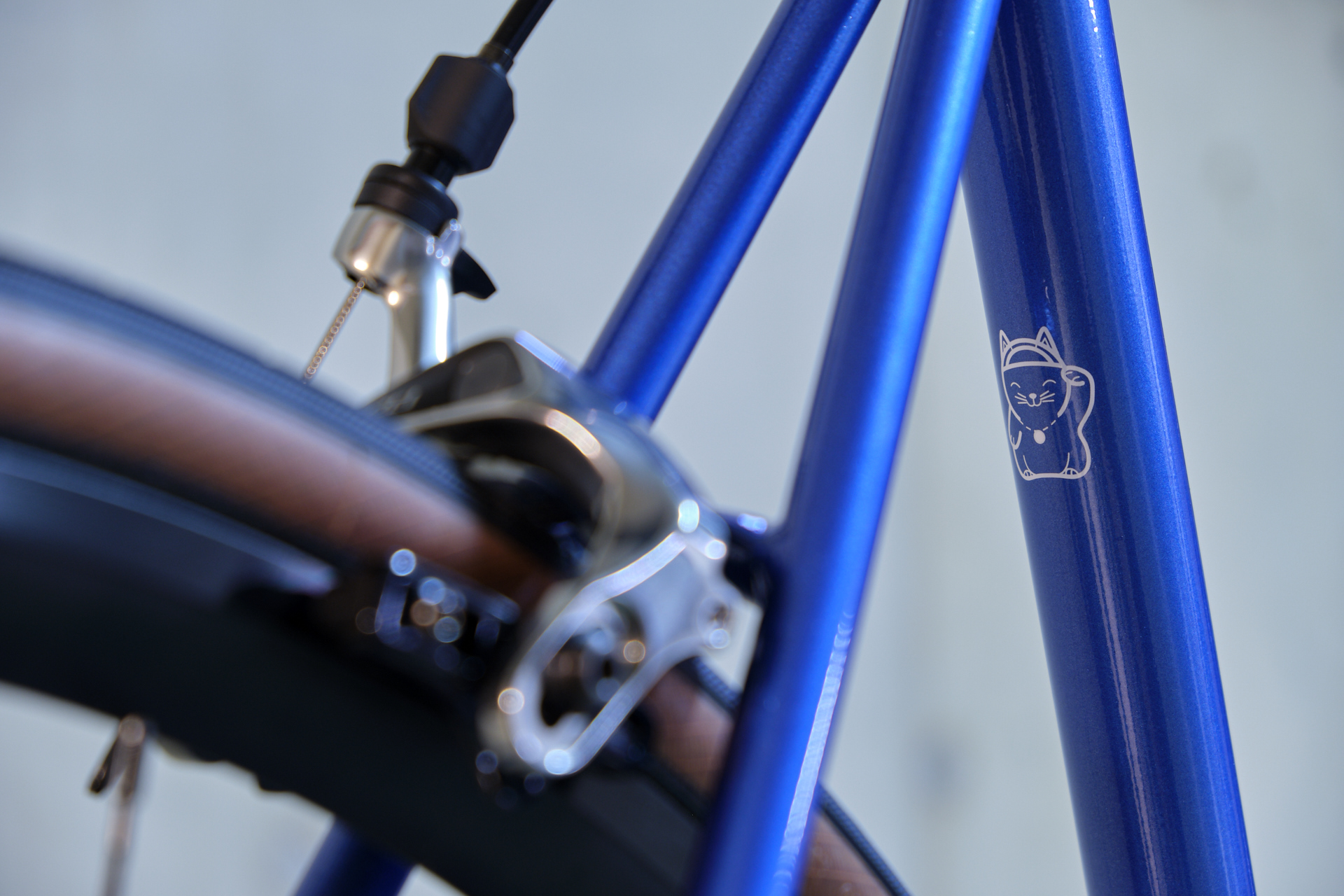 My tire choice is the quite unknown Continental Grand Prix Classic. Originally I just wanted something else than the Vittoria Corsa tires that everybody else is putting on their classic looking bikes, but then I also realised that the darker brown sidewalls of the GP Classic go really well with the matte punch and blue colour combination too.
I did not want to mess with my saddle so I stuck with the Fizik Arione (although went one level higher with the R1 model), and when your saddle is Fizik then your bartape needs to be Fizik too, where I went with the newly released Vento Solocush Tacky (after I noticed that my original choice – the Superlight – had white backing that was totally visible from the side…).
Picking out the handlebar, stem, seat post combo was a bit more nerve wrecking, mostly because (… long story short …) I am a way too difficult person. But seriously, I just wanted something relatively light, with matching looks, without visible branding. At the end I ended up with Zipp parts, and while I was considering Ritchey and Fizik part too, these were the cleanest looking ones thanks to the black on black branding (that is called beyond-black by Zipp). I went for carbon only for the handlebar, because a) I don't like too much flex under my saddle and b) I wanted the same metallic black stem and seat post (but the extra comfort for the hands is welcome). A minor complication was that the first stem that I received had a minor scratch on it, so I had to get that exchanged…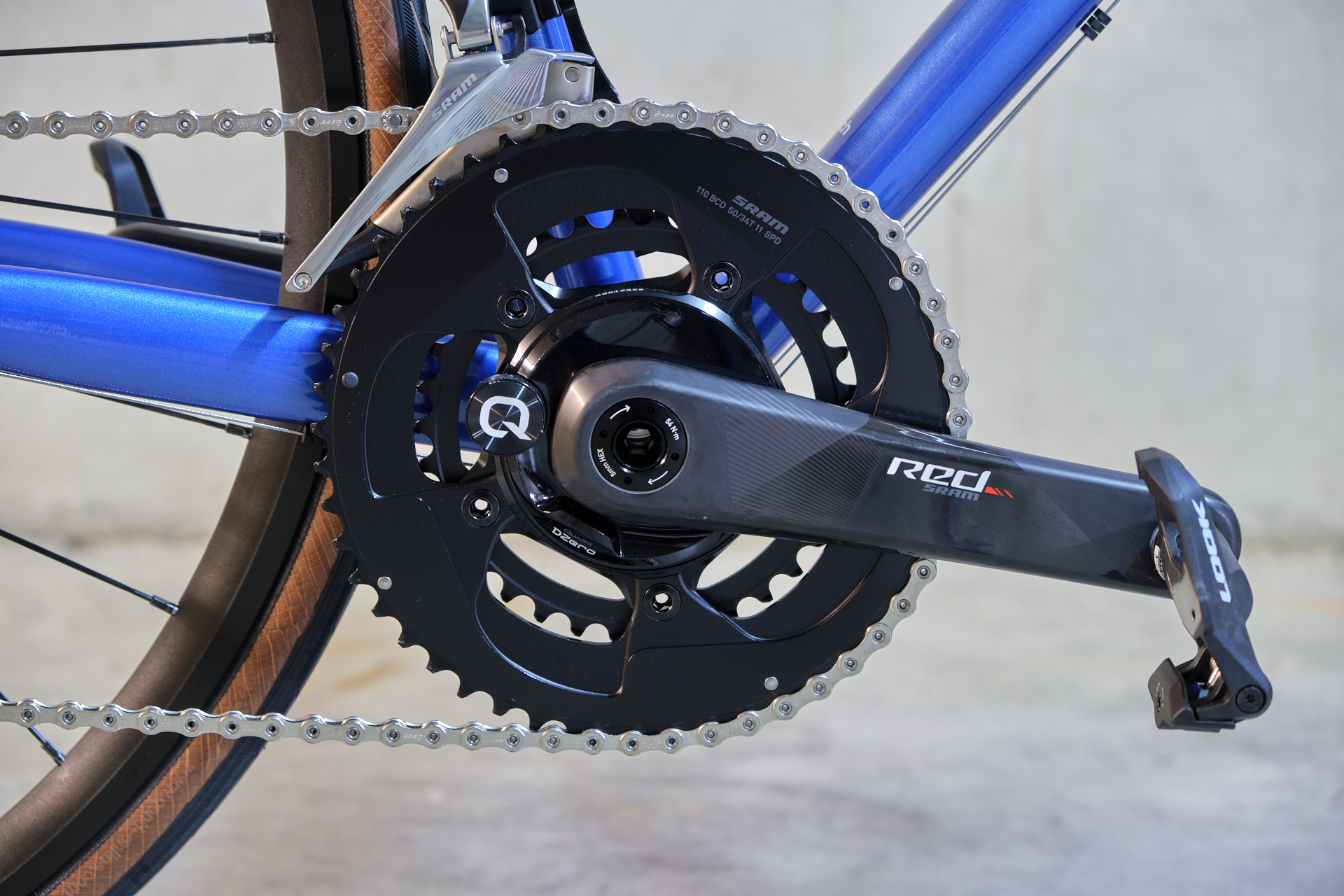 The remaining small choices were the pedals (just picked the lightest Look pedals just like for my Endurance), the bottle cages (what else than the famous titanium King Cage), the headset spacers (matching Chris King ones), and the mount for my Wahoo BOLT (K-EDGE Aero Race Mount, simply because a metal mount goes better with a steel bike than the original plastic one).
I have a big (top secret) Excel (ok, Numbers since we are Mac users, at home at least) spreadsheet containing all the parts with their official weights, price, description, webstore-link, etc., so I know exactly how much the bike cost (ouch). Since weights reported by manufacturers are notoriously inaccurate, and/or do not include parts like cables, housing, the Chris King parts in the frameset, etc., I also measured everything by myself so I know the actual weight too very accurately (confirmed by total weight measurements just before cabling and at the end). The weight is 7762 grams without pedals, bottle cages, and the Wahoo mount (for people new to cycling, that is how people measure bike weights), while with everything included it is 8120 grams. For a steel bike this is quite nice, especially given that the wheels are not even near the lightest (you could easily gain another 300-400 grams there, but I preferred a more bomb-proof configuration), so I am quite satisfied.
Building the bike up was actually pretty easy, I got only delayed by a few things. First of all, the bolt of the front derailleur: the original SRAM bolt is a proprietary bolt that serves as a female part for the smaller bolt that fixes the chain catcher to the whole setup, but this bolt only works with SRAM derailleur clamps. Now SRAM clamps only come in 31.8 mm and 34.9 mm diameter, but my tubing diameter is 28.6 mm, so I have a custom clamp. Therefore I needed a new bolt, and a new chain catcher, which was all-in-one solved by simply buying a K-EDGE Chain Cather. Then there was the already mentioned incident with the original ugly-looking bar tape (the new one looks so much better, I am glad I did not stick with the original choice), and the fact that I managed to cut the last cable housing too short, and I ran out of cable housing so I needed to order a full set just for that. Also, while everything was quite easy with a multitude of manuals and YouTube videos online, guiding the cables in a symmetric and tidy way took quite some effort, but at the end I was very happy with the result.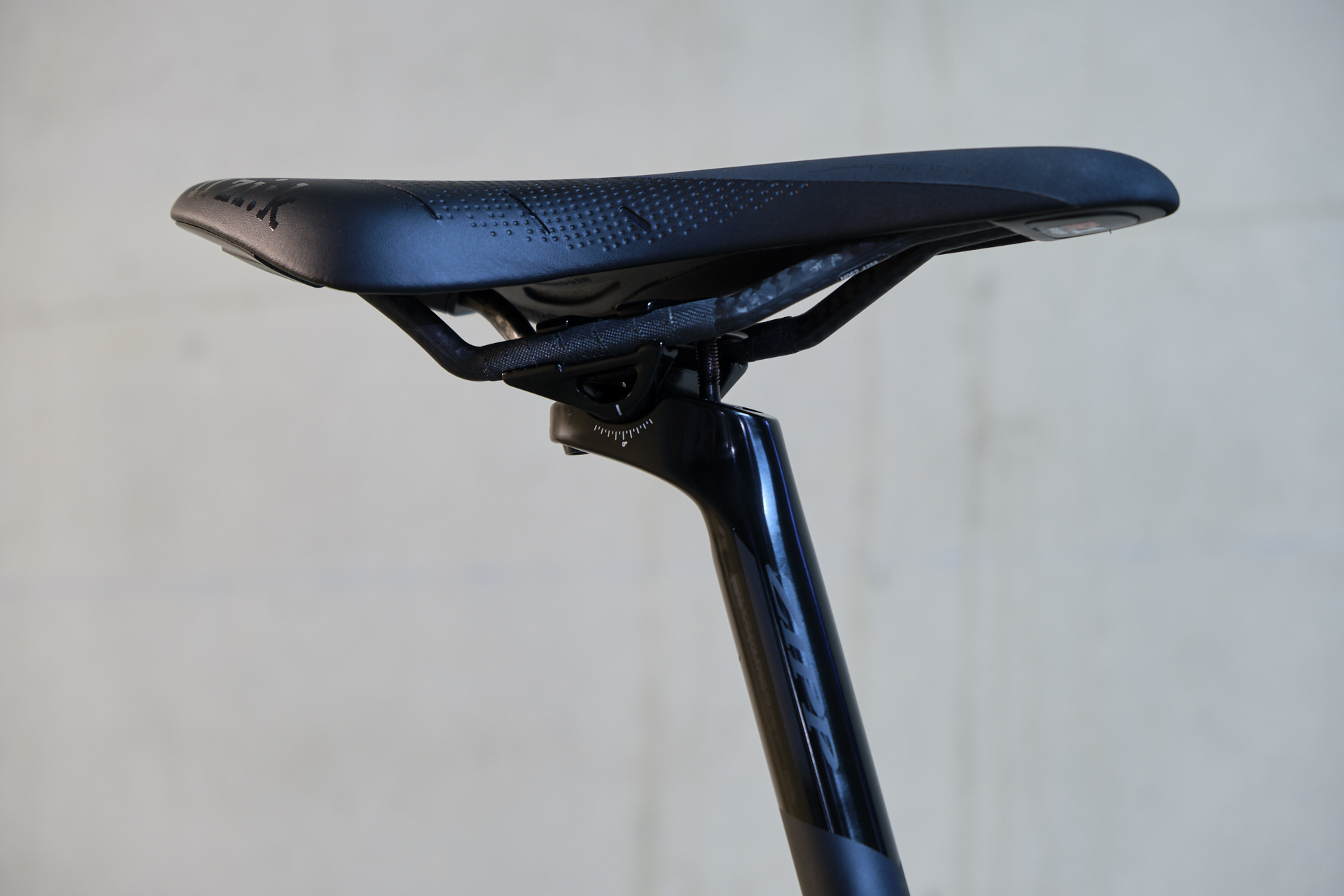 While I will have to wait with the first ride of the bike until the weather gets considerably better (as I don't want its first experience to be a salty water bath), it looks perfectly as I imagined, and that is already something. (I also sat in the saddle once and the position also felt good, but this is not surprising after the mentioned geometry-similarity with my earlier bike.) My only minor complaint is that I feel like that the shifter cable towards the rear derailleur is guided way too close (at the closest point there is less than 1 mm of clearance) to the chainstay, so I had to put cable donuts there too, but there is nothing I can do about that. I had a great few months planning and building this bike, I hope it will also be as nice to ride it on the road. All my cycling friends that own a steel bike speak super positive about their ride qualities, so I am sure it will be worth the wait.
The bike even got picked by the guys at the Global Cycling Network as a supernice bike! (Although this is not such a huge achievement, given what kind of bikes they give the supernice badge sometimes…)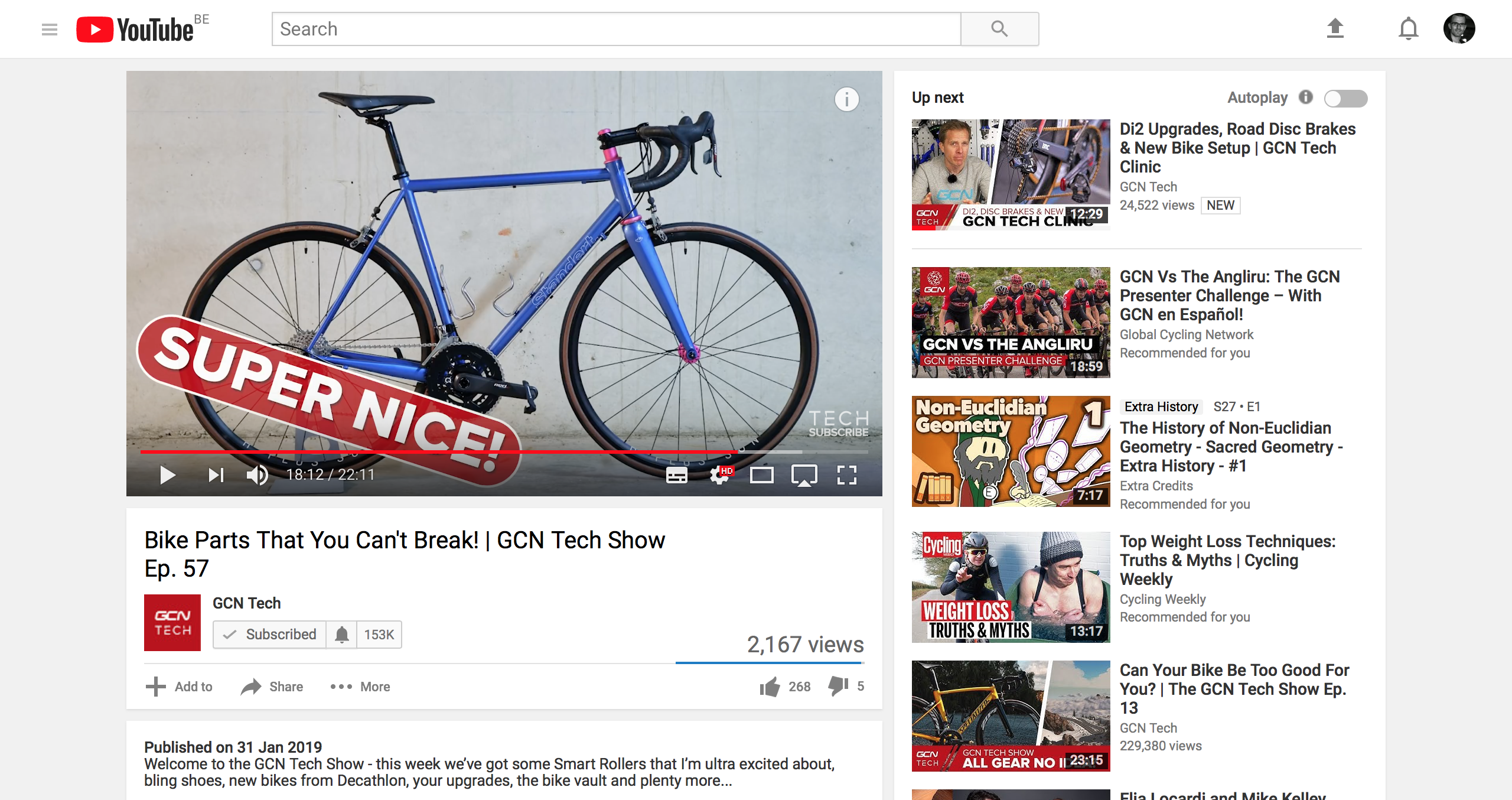 Update after 4 rides with the bike: I am happy to report that the bike rides as good as it looks, I have totally fallen in love with it. Now I understand what people mean when they talk about the special ride quality of (modern) steel bikes. I was a bit afraid while building up the bike that I was spending way too much money on a fancy looking bike that I might not even want to ride that much, but that feeling is totally gone now. I even think that if I was allowed to keep only one of my bikes, then I would pick this one over the Canyon. I am also happy that after some small adjustments on the front derailleur, the chain catcher's position, and the pre-load adjuster of the crankset during the first two rides, everything works super smooth and without any unwanted noise, so I must have done a good job assembling everything. (Of course now I don't know which bike to take to France, so I will probably take both…)