Finally, the third night brought good weather over Tenerife. The humidity was still not low enough to have cloudless skies (so no photometric conditions), but what is not good for astronomy, that can be perfect for photography. The clouds at the peak of the Teide were amazing.
And as the sunset came closer, the colors and shapes kept changing continuously. Then – as almost every day – the shadow of the volcano was again visible over the sea towards Gran Canaria as the Sun moved below the side of the mountain. Yes, what you see below is the shadow of the mountain's slope (the dark rays from the middle towards the top right)!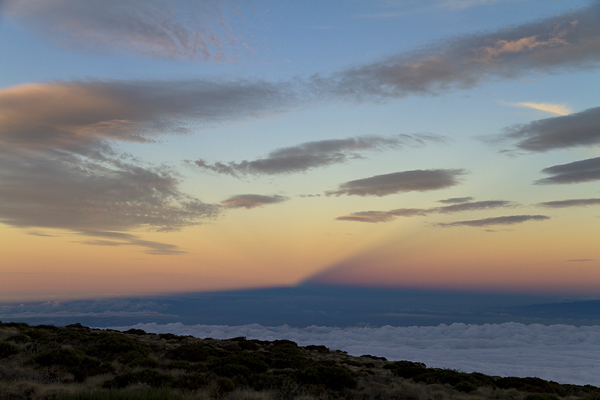 There were some clouds during the night, but not that many – most of the time only the Teide's lenticular cloud was hanging over the moonlit landscape. I made a time lapse again, which can be seen here. I have some nice things to show in tomorrow's post already (it was really hard not to include it right now)!