The first day, after getting my rental Trek Domane 4.5 from the local Trek store just a few minutes walk away from our hotel, I headed out to the North in beautiful warm weather. (I apologise up front, but pictures in this post were all taken with my phone, thus the quality is not exactly what you are used to on these pages.) Getting used to a completely different bike geometry took a bit of time, especially that the frame was slightly larger than what I need, and the handlebars were really wide compared to what I am used to. But riding a full carbon bike for the first time in my life was a nice experience. Now I want a new bike :S Anyway, back to the ride. Getting out of the city was not much of a challenge since I had a map on my Garmin Edge 800 GPS (this is actually the first time I had a mapped GPS with me on a biking holiday), but then the climbing started. I first had to ascend a 3rd category hill with nearly half kilometre at 10-12%, which was followed by a long descent to Lyons, where the big mountain of the day started. It was not too steep, but took a while, since I had to ride more than 38 km to gain some 1600 metre in altitude (there was ~2km downhill part within), which made it a HC (Hors Catégorie) ascent. The scenery was really nice, the roads wide and smooth with very little traffic, so I enjoyed it a lot.
To make it more interesting, I got a flat somewhere along the ascent, so I finally got to use my CO2 cartridges with my new handpump (cool!). But since changing tires is nothing of a challenge after riding 23000 kilometres, I also got a nice thunderstorm for the last part of the climb. Huge but sparse drops of rain started to fall when I reached an elevation of 2300 metres, and with the precipitation, the temperature also started to drop. I was riding in 30°C before the clouds came, and in a bit less than one hour, the temperature dropped to a mere 5°C… Yeah, the sparse drops soon turned into heavy rain, which turned into a mix of snow, ice, and graupel, which first of all was a bit painful (making me think about what to do if the ice grows in size and starts falling in not 0.5-1 cm pieces but 5…, which luckily did not happen), second of all it acted like ice in the fridge, hence the 25°C drop in no time, but despite the suffering I went through during these kilometres, it was a huge experience, and now it seems like one of the best things from this holiday. I know, it sounds crazy :) Of course the worst part was not going up in that cold, but that I had to start my descent at 2800 metres in 5°C with no warm clothes except for a wind/rain jacket (which already lost its ability to keep rain out). It was around 15 kilometres to go down till the air started to warm up, and going 40 km/h in 5°C means a perceived temperature (thanks to wind chill) of -17°C… I quickly started shivering quite seriously, which meant that I really had to concentrate not to let the handlebars go and fall off the bike. It was not easy. When I finally escaped from the clouds and arrived to a crossroad with sunshine, I stopped for a while to warm up a bit.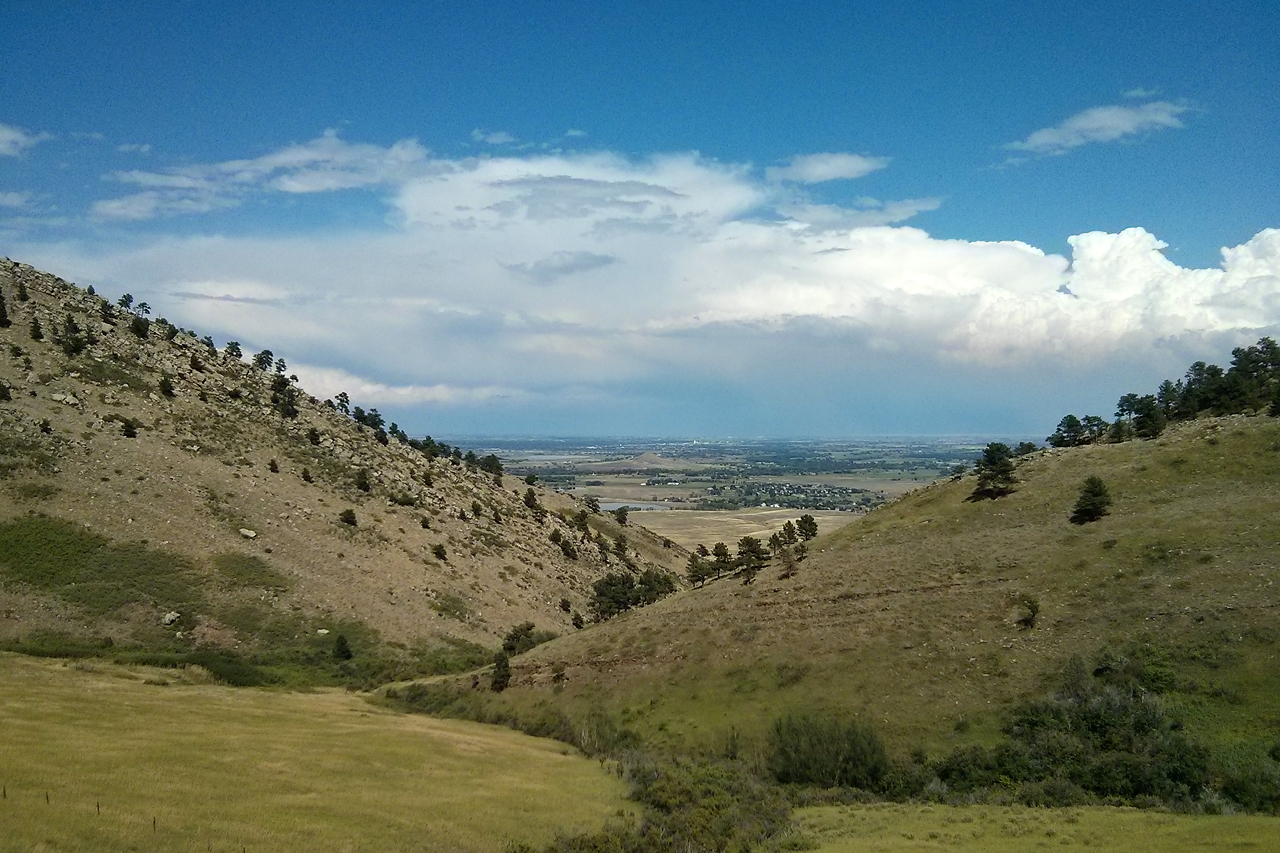 By the time I started climbing the last hill (4th category) it was back to 27°C again, and sweating :) I finished the day after 112.37 km and an elevation gain of 1794 metres. More details can be found on Garmin Connect or Strava. Thanks to Clio I had a huge burrito waiting for me in the fridge (and also lots of grapes we had bought the previous day in the Whole Foods Market), so I had quite some difficulty when I still wanted to finish a full plate of pasta for dinner…
On Tuesday, I started the same way towards the north, but just before the long 10-12% section of the previous day, I turned left… to have a similar section but now with sustained 12-14%… At least the view was first class again. Soon afterwards the climb became less brutal, but it went all the way up till 2125 metres in elevation. After this 2nd category climb, I descended to the valley and started climbing up again (along Lefthand Canyon Drive), on the same road I descended while battling the elements the day before. You might recall that it was a long descent, which of course means that now it was a long ascent. Very long. It started at 2000 metres and went up till 3168 metres, which means I had an average grade of 4.5% on a bit more than 26 kilometres (HC climb). Luckily except for a 3 km section arriving to Ward with an average of ~8%, it was not too steep, so I had energy to keep looking around end enjoy the scenery. I started to hear thunder in the distance quite early already (around 2400 metres), so I was a bit worried about the rest of the day, especially that I knew I am heading towards a lake at 3150 metres, situated in a quite open area, which is not the safest place to be in a thunderstorm… Luckily after a few drops of rain near Ward it cleared up again, and I arrived in nice weather and sunshine to the Brainard Lake.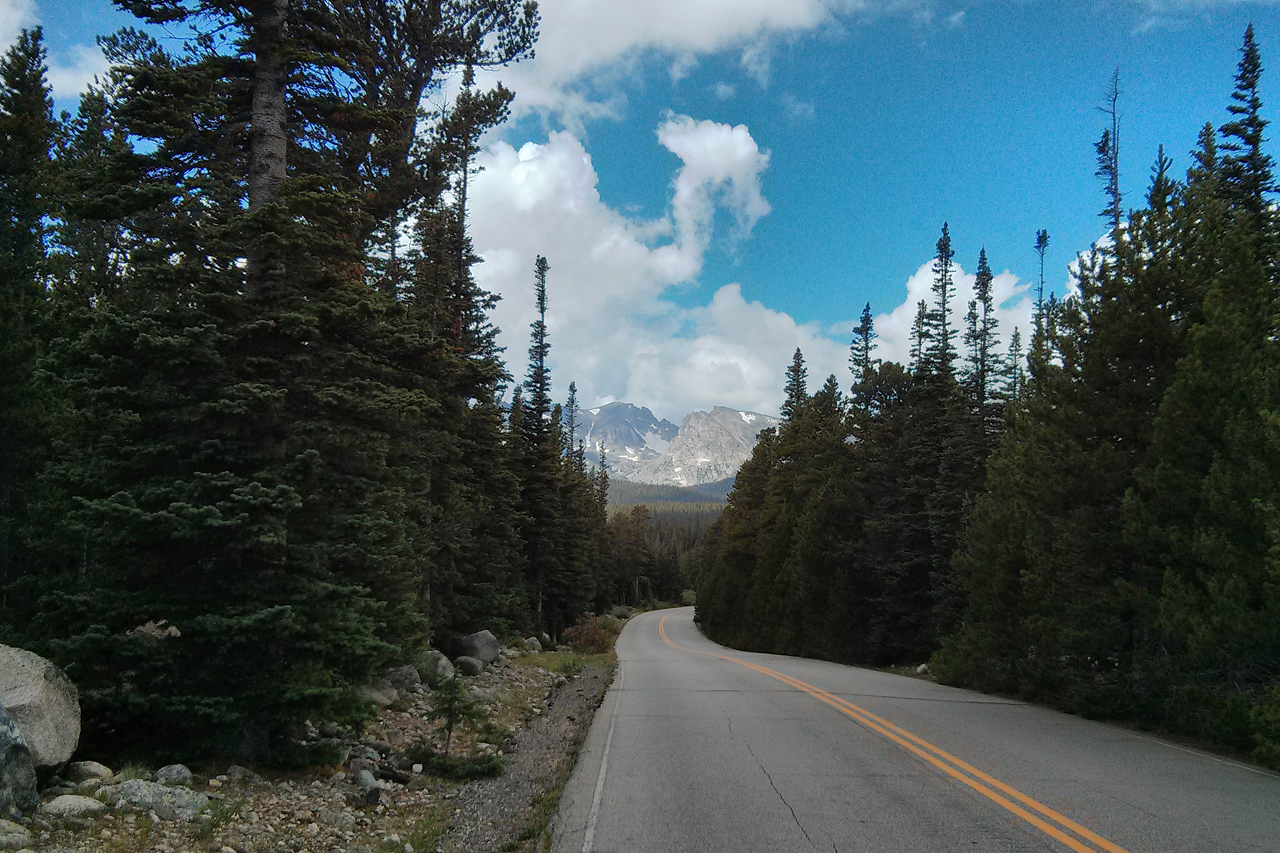 It was really beautiful up there, but you could feel that the oxygen content of the air was much lower than usual, so I was glad to have some downhill from here. I took the Peak to Peak Highway to Nederland (mostly flat or not too steep downhill, then a 4th category climb), and for some reason, I got a flat again…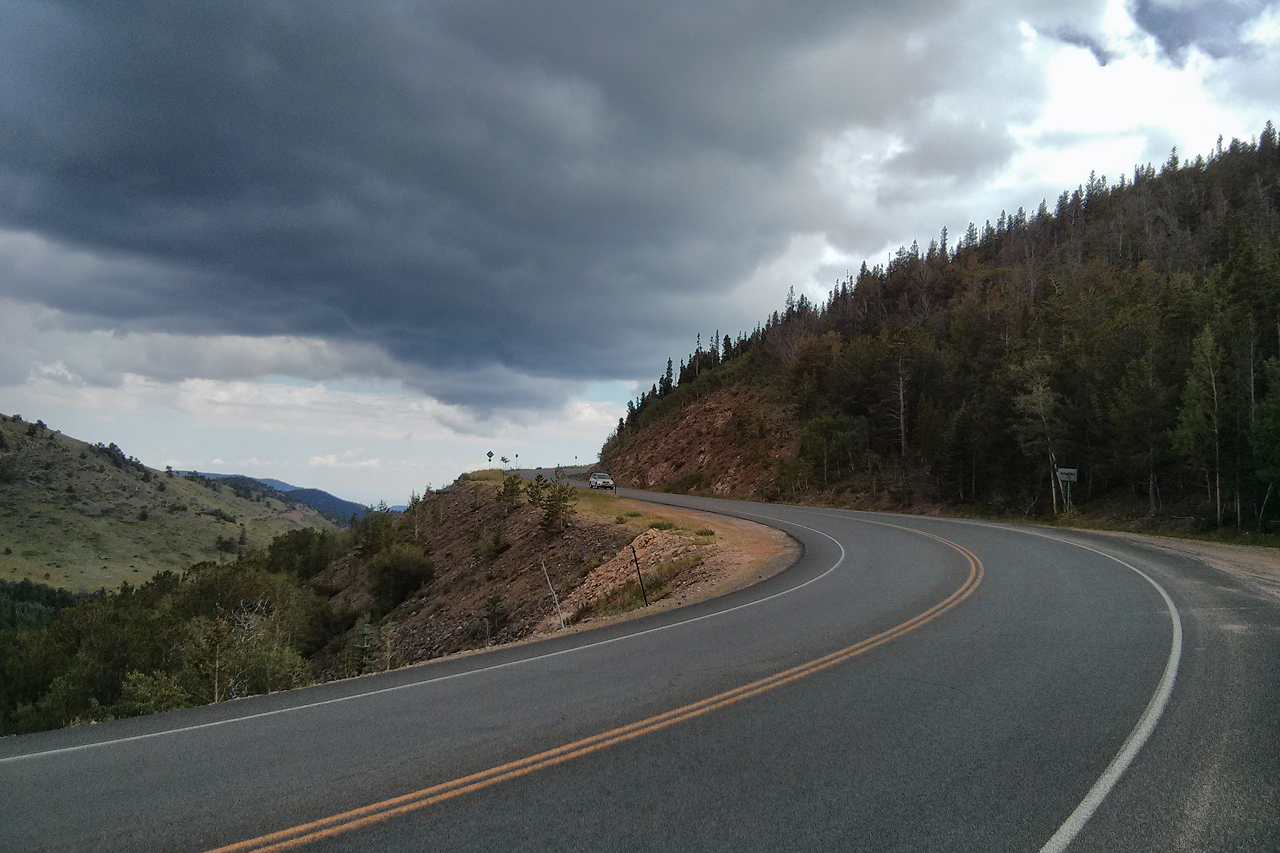 At that point it was raining again, and with lightning being not too far from me, I performed the fastest tube-change of my life so far. From Nederland I had to climb a little bit along the reservoir before starting the long descent towards Boulder in another canyon (the 3rd so far), but it was barely a 4th category hump if any. Of course, for the long descent I got heavy rain (again…), so I could not really enjoy it, especially that it was a bit more busy than the other roads I have ridden so far, but I knew that I would be climbing back up there the coming day, so I was not really bothered by it. Also, this time the temperature went down to only 11°C (from 23°C) and I even had my arm warmers with me, so I was not at all cold. Before riding back to the hotel I dropped by the Trek store to buy another spare tire and a CO2 cartridge to replace the ones I used up. I finished after 102.13 km and 1910 metres of elevation gain. Full details of the ride can be found on Garmin Connect and Strava. That evening I had no difficulty finishing my plate at Noodles & Company.
On Wednesday, I first headed out to climb Flagstaff Hill (2nd category climb, 5.5 km @ 6.2%), which is the most local, classic climb of Boulder cyclists. With its switchbacks it is indeed the climb most similar to the big European ascents, and with the view to the Flatirons, Boulder and the plains towards Denver, and towards the higher snowy peaks of the Rockies from the finish line, it is indeed a must have in every cyclists logbook.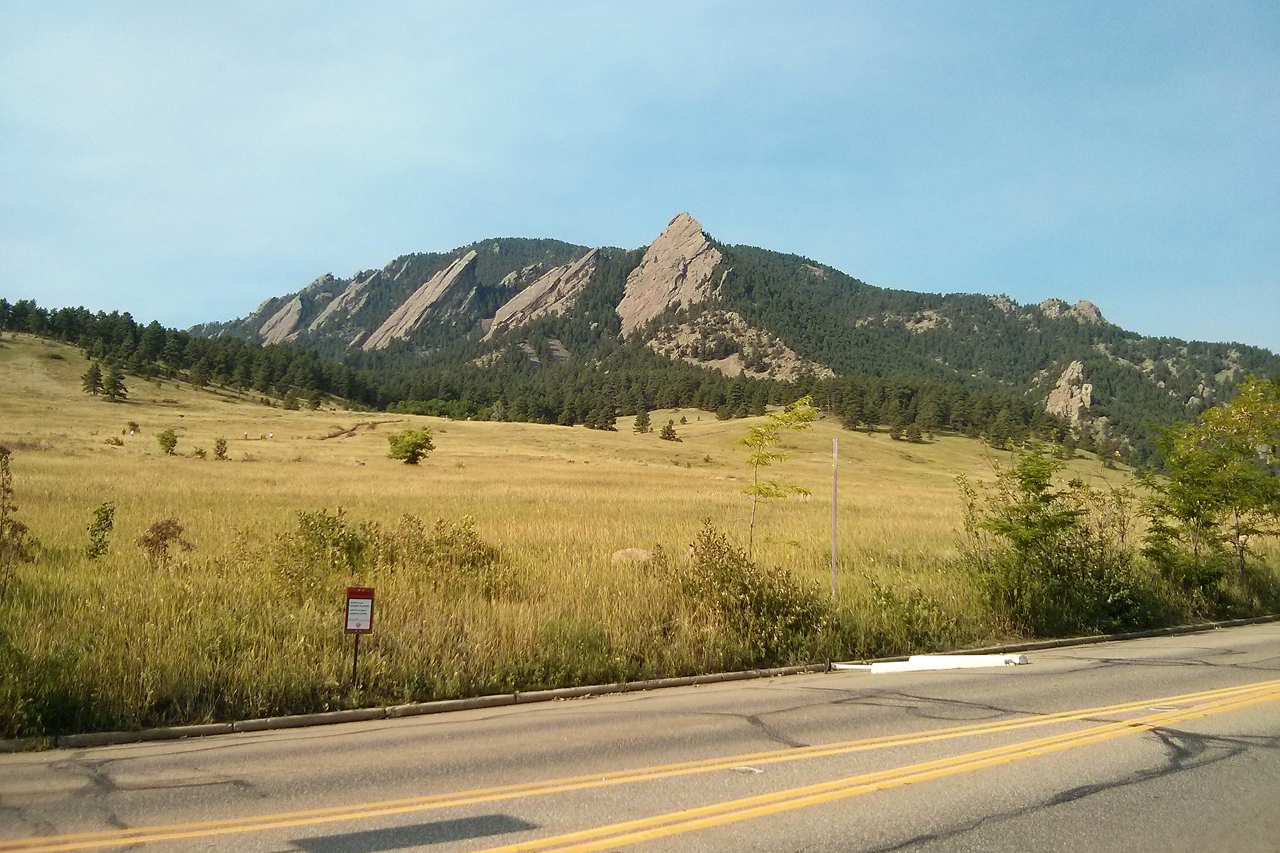 As usual I had some friendly americans to chat with at the top before rolling back to Boulder (almost running into a deer family crossing the road) and turning west to start the long climb of the day. It is 22 km at an average 4% (HC) along the Boulder Canyon Drive till the Barker Reservoir, which is not steep at all, except for ~5 km in the middle with sustained grades up till 10% (which makes the rest even less steep). Now in good weather I could enjoy the steep walls of the canyon around me, with great rock formations everywhere.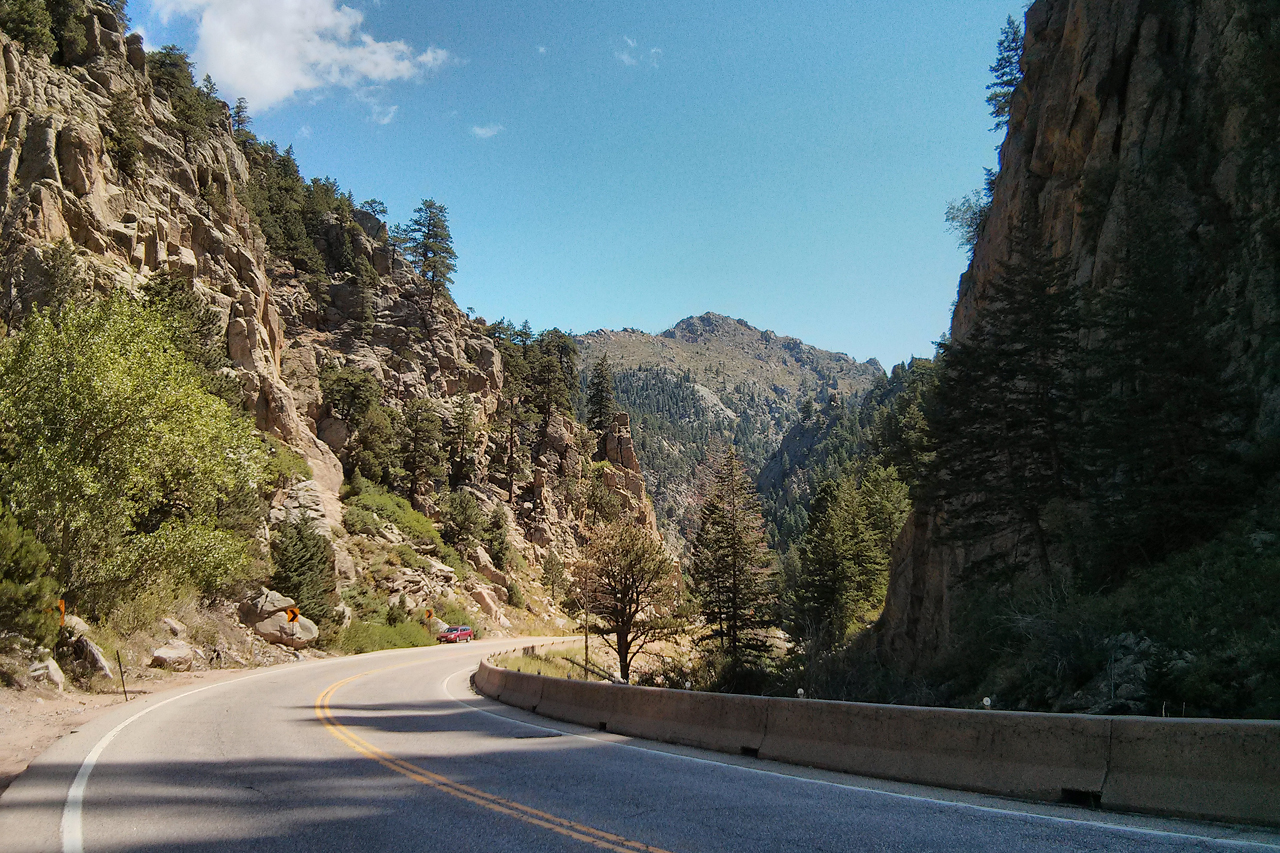 The view from the reservoir was also very nice, especially that finally there was no risk of thunderstorms, but clear skies.
From Nederland there was still a bit of climbing (a good 4th category up to 2626 metres) along the Peak to Peak highway before the road started going downhills and I turned right on Coal Creek Canyon Road (the 4th and last canyon on the bike). The downhill went on for almost 10 km, before the road turned uphills again. This last ascent was a bit more than 4 km at an average almost 5% back up to an elevation of 2630 metres.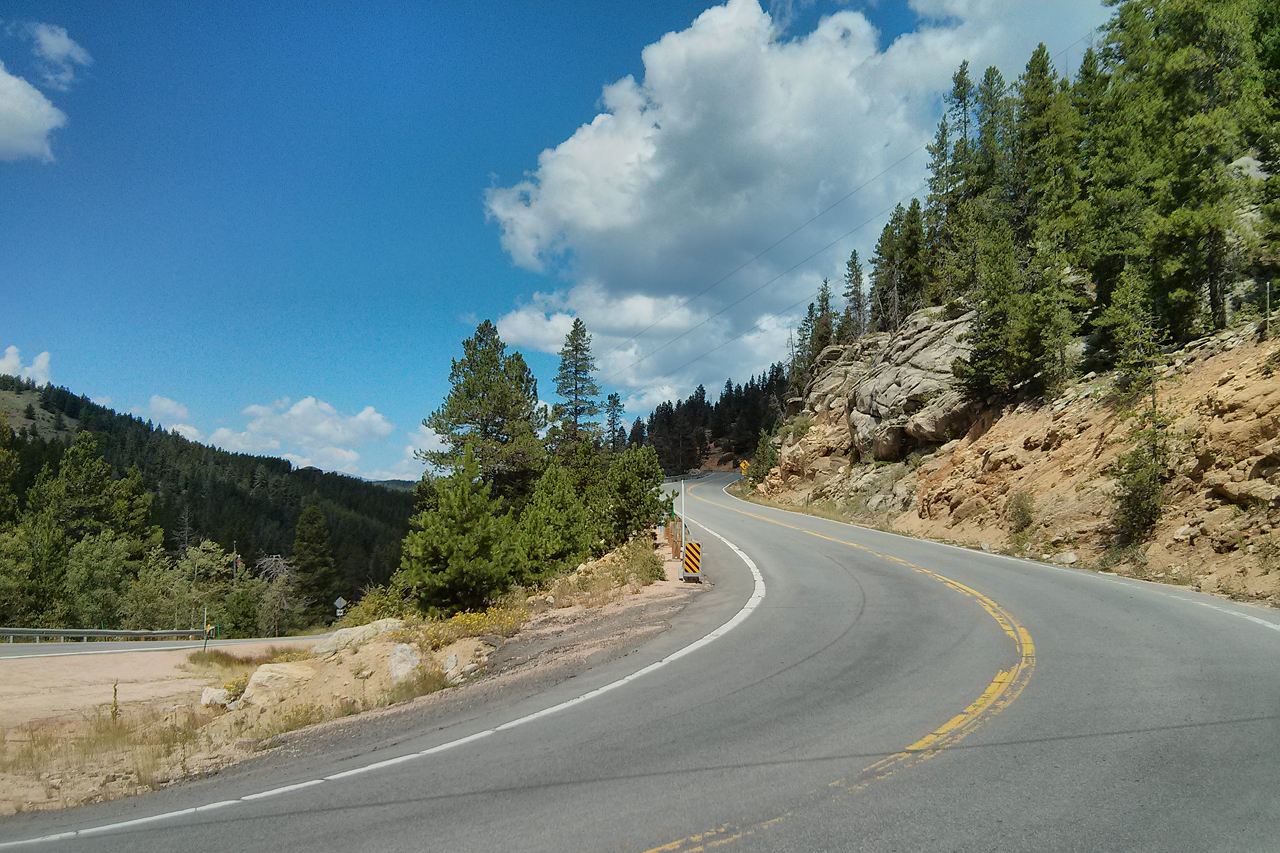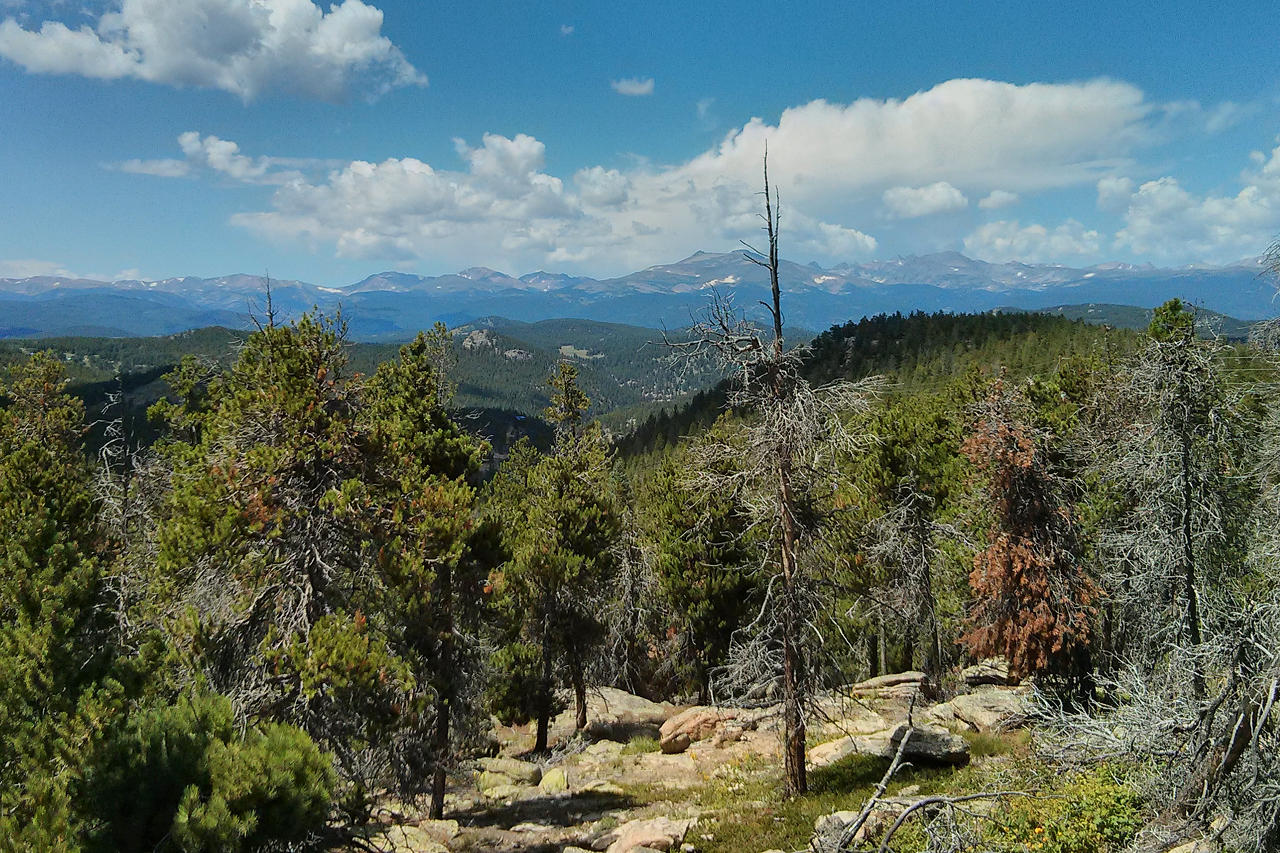 From the last hairpin there was a great view to the higher Rockies! The long descent from here was the nicest from the three days – but I do not know if because it was again a very nice canyon, or because this was the only dry descent I had where I was not breaking all the time ;) For the last 20 km I escaped the Rockies and rode the plains under the foothills with great views back to the mountainous landscape I just left behind. I arrived back to the trek store to drop off the bike after 100.94 km and 1761 metres of elevation gain, and as usual, all the details are on Garmin Connect and Strava.
Since I got back quite early from the ride (after leaving very early on the morning), and Clio had only a half day of conference that day, we still had a walk and some food downtown on the afternoon. For dinner, we went to a place called West Flanders Brewing Company, and I had a burger and some Belgian style beer (which was quite nice, even though they ran out of my first choice, the Angry Monk).
On Thursday morning, we took the bus to Denver…