Our last day in NYC started without our more or less usual Starbucks breakfast, as we took the PATH train towards Christopher Street without spending any unnecessary time in Jersey. Upon our arrival in Manhattan, we walked into Greenwich Village, an area where houses are only a couple of stories high, and they are surrounded by quiet and green streets – something you might not expect to see in New York as un unprepared tourist (which we were not). We had breakfast here on one of the corners at Doma na rohu, "featuring the homiest foods and most delicious beer and wine of the old Austro-Hungarian empire".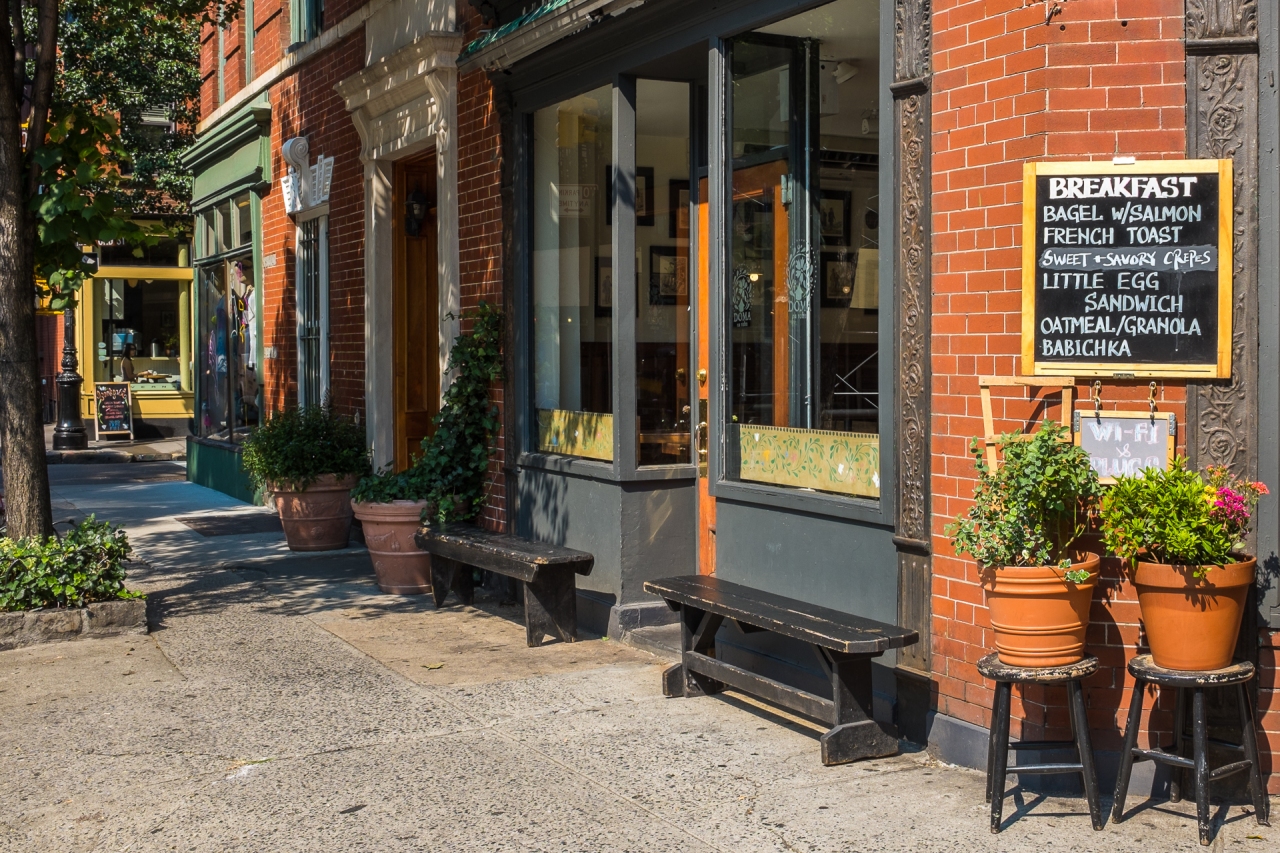 I had a really nice Bavarian breakfast with white sausages, pretzel and mustard accompanied by a glass of white beer. It was a great start for the day! Then walking around, we passed by, e.g., the house used in the TV series Friends.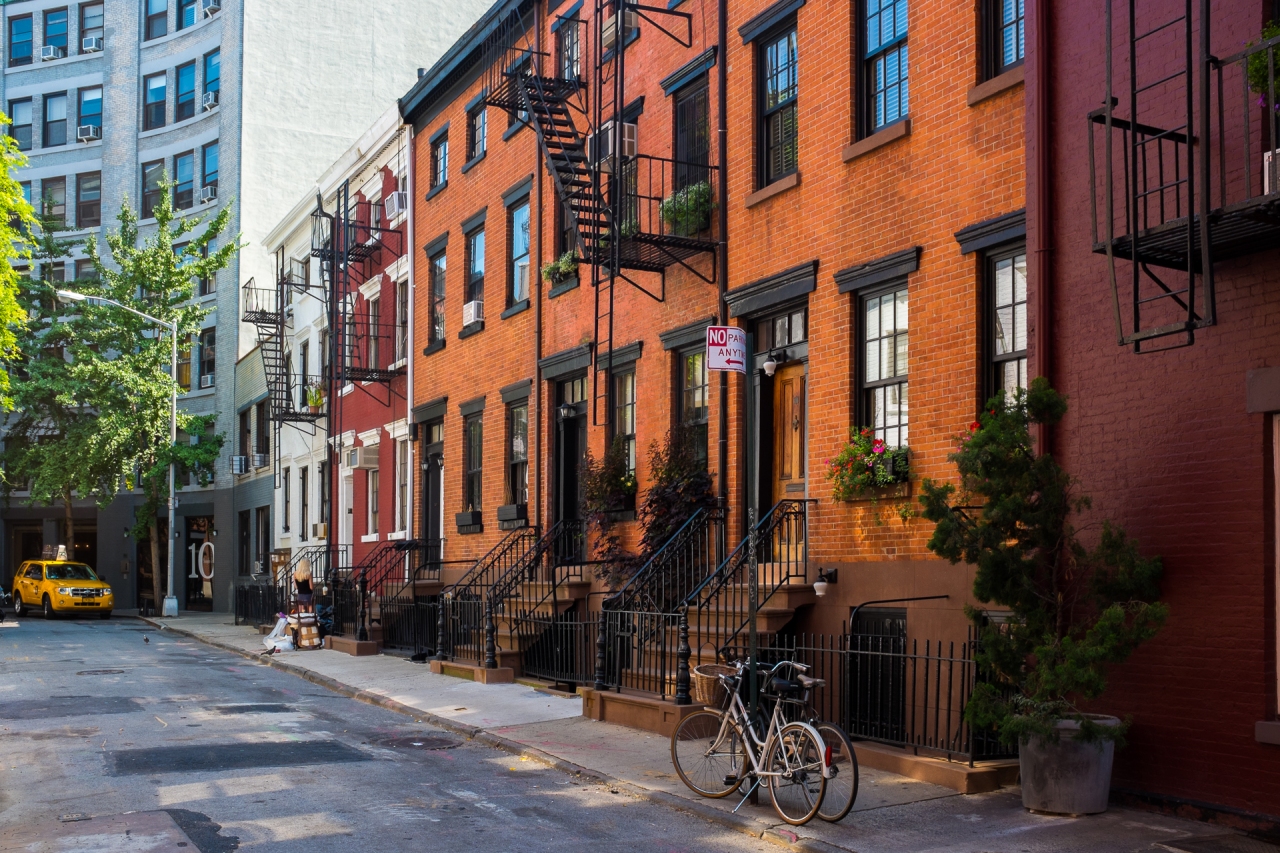 We were lucky to have the trees on the streets, because it was very hot and sunny again. We continued through East Village, which was not so memorable (except for the clear presence of a large Ukrainian immigrant minority, and a cube-shaped statue which was mounted on one of its corners, and it was supposed to be possible to rotate it around, but it did not really work that way…). Also, while walking around, we were looking for a new bag to replace the one which broke on the day of our arrival, since we decided that was just garbage. Anyway, we crossed towards Lower East Side via Roosevelt Park, then turned in the direction of Chinatown and Little Italy. These were not my favourite places, but I have to admit they felt authentic. Chinatown is – surprise, surprise – full of Chinese immigrants, and everything is Chinese (TV channels, goods, written and spoken word).
Of course this means that an average European tourist will always have a nice view over the heads ;) Little Italy is packed with restaurants serving pizza and pasta, but we did not spend much time here, but headed up into SoHo and TriBeCa instead. This was more our style, with typical cast-iron facades and fancy boutiques.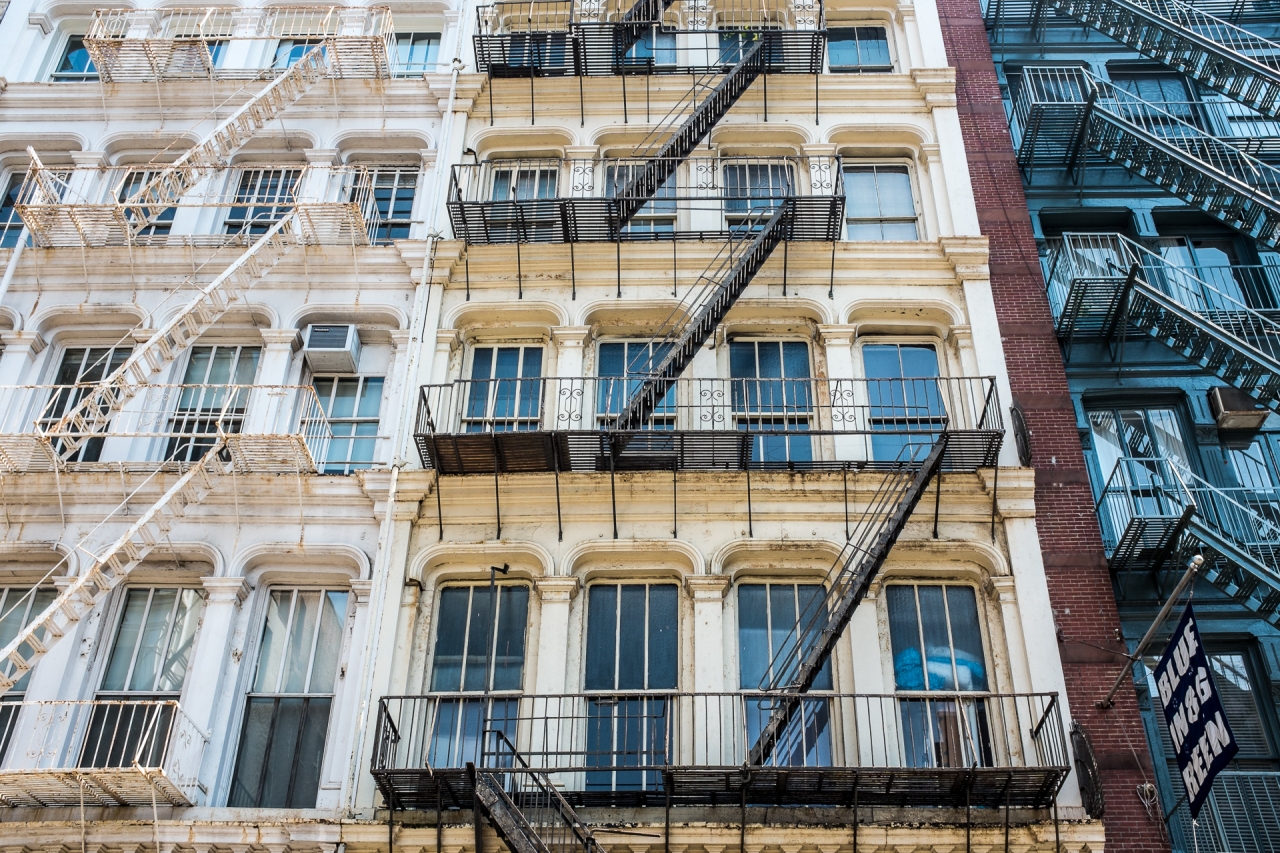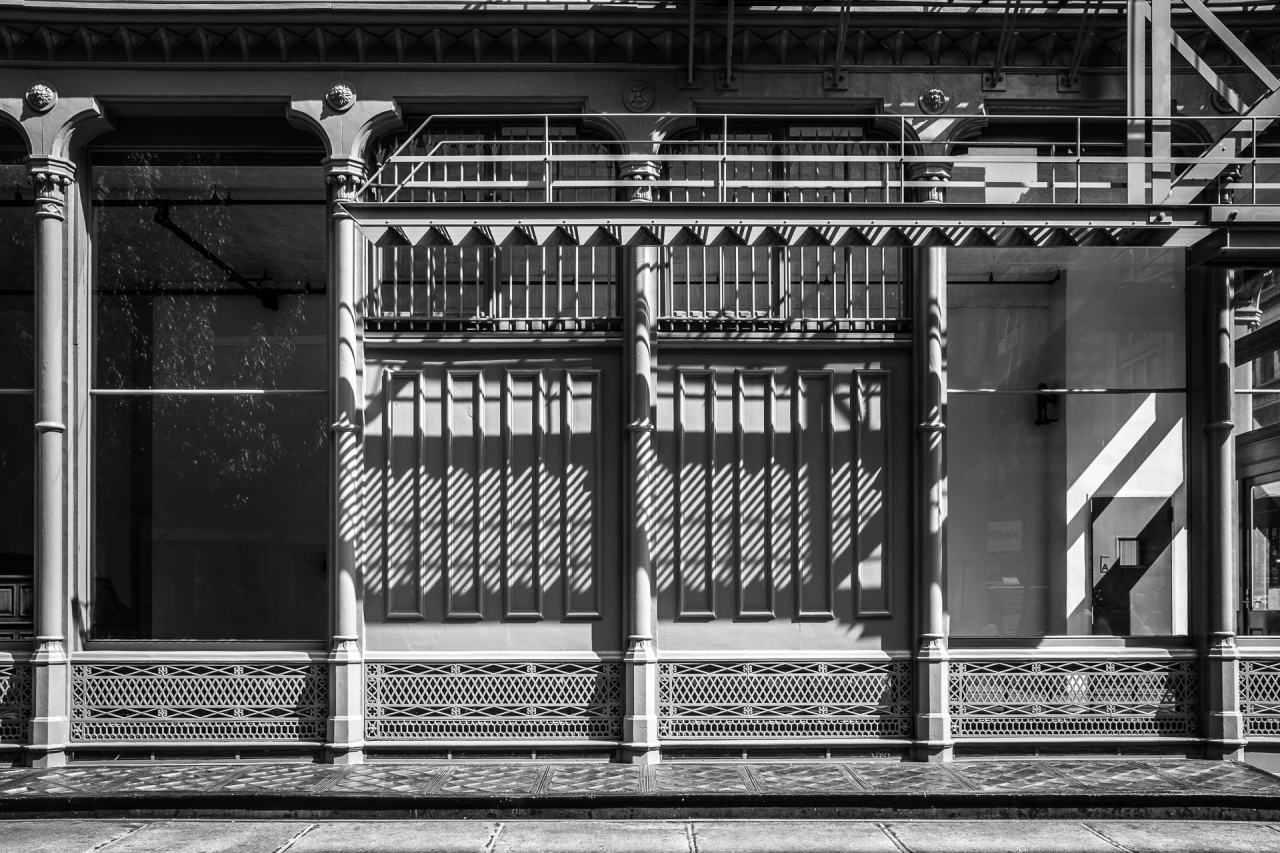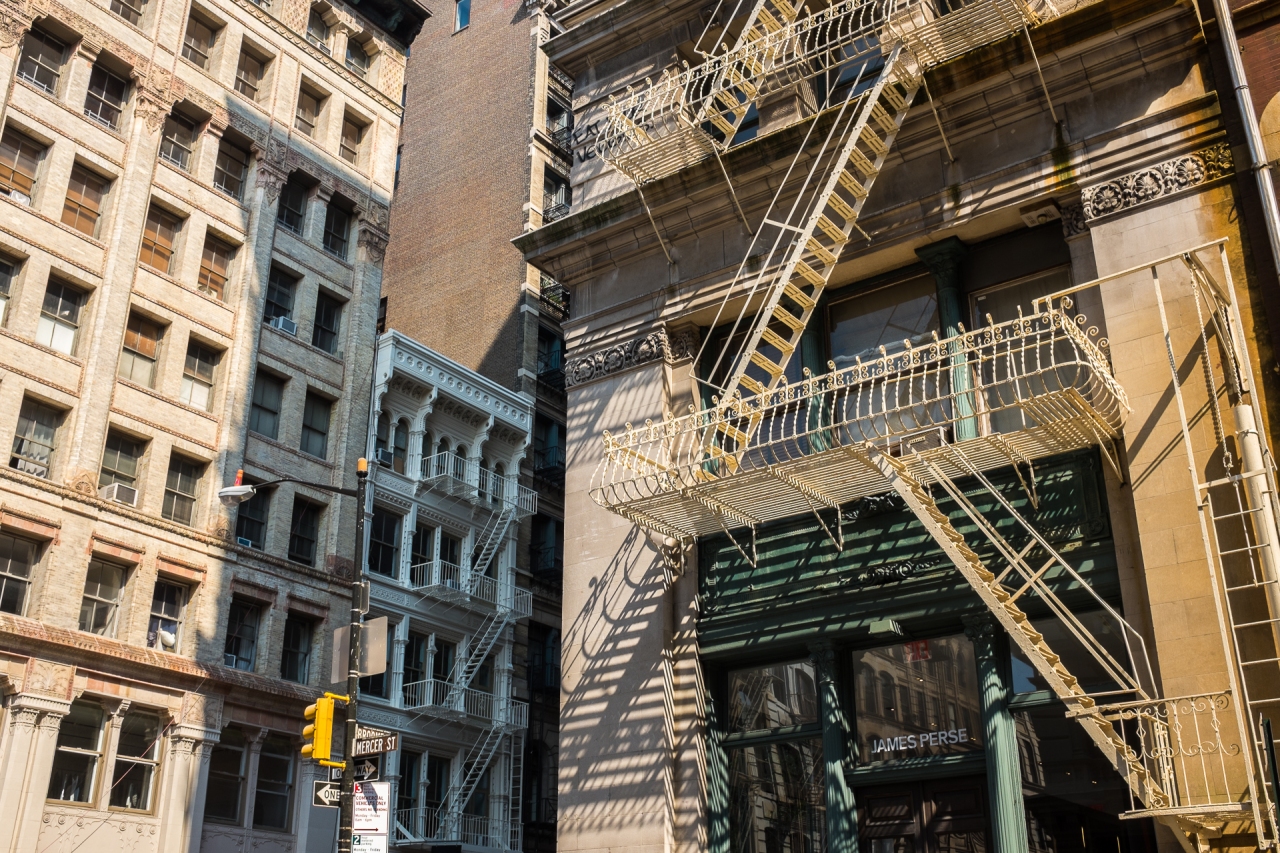 We had lunch at the Pain Quotidien to feel Belgian a little bit. Their watermelon juice was really refreshing! As a dessert, Clio bought a small box of mini cupcakes at Baked by Melissa (hmmm, cupcakes!!!), then we bought the mentioned replacement bag (North Face Wayfinder, completeing my North Face bag collection :D) too. Before leaving Manhattan we still spent some time resting on a bench in Washington Square Park, listening to live jazz and looking at the squirrels, and some crazy man covered in pigeons… Then we walked back to the PATH train through Greenwich Village and took it to the other side of the river, where we spent at least an hour on the Hudson River Waterfront Walkway, watching the Manhattan skyline turning golden yellow, sparkling in the light of the late afternoon Sun.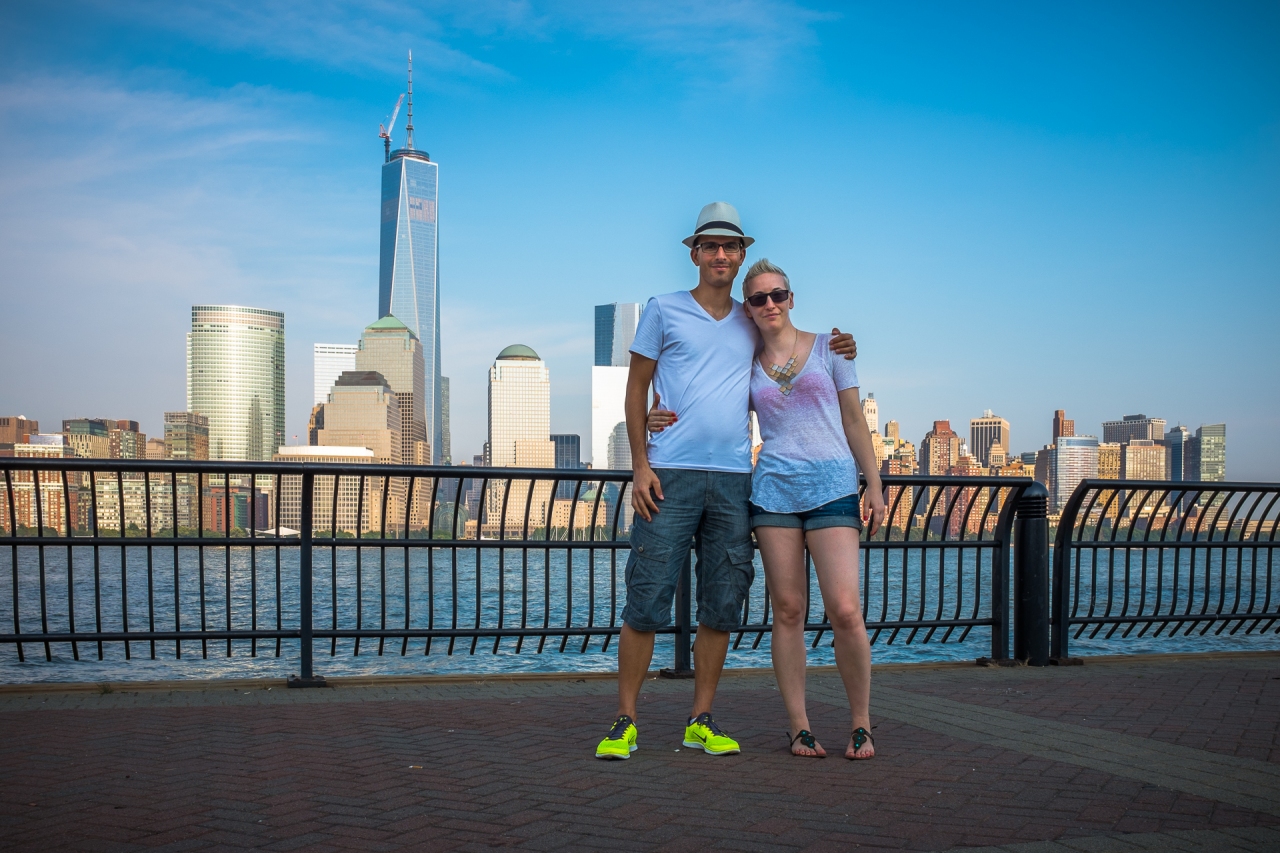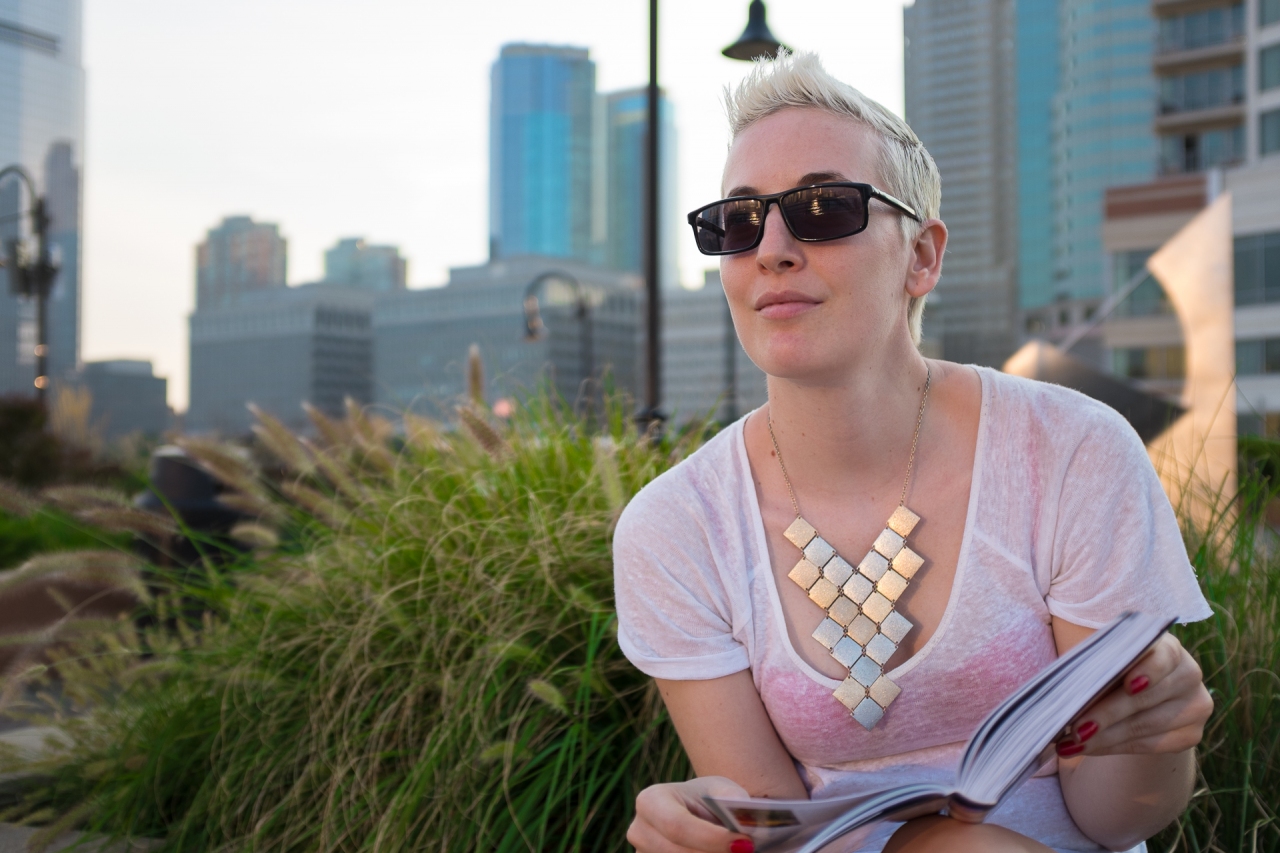 There were also some fisherman out, but the fish seemed to be on holiday. We had dinner – a nice burger with fries for me, seafood for Clio – at the same place as the day before. Back at the apartment we still did some packing before going to sleep.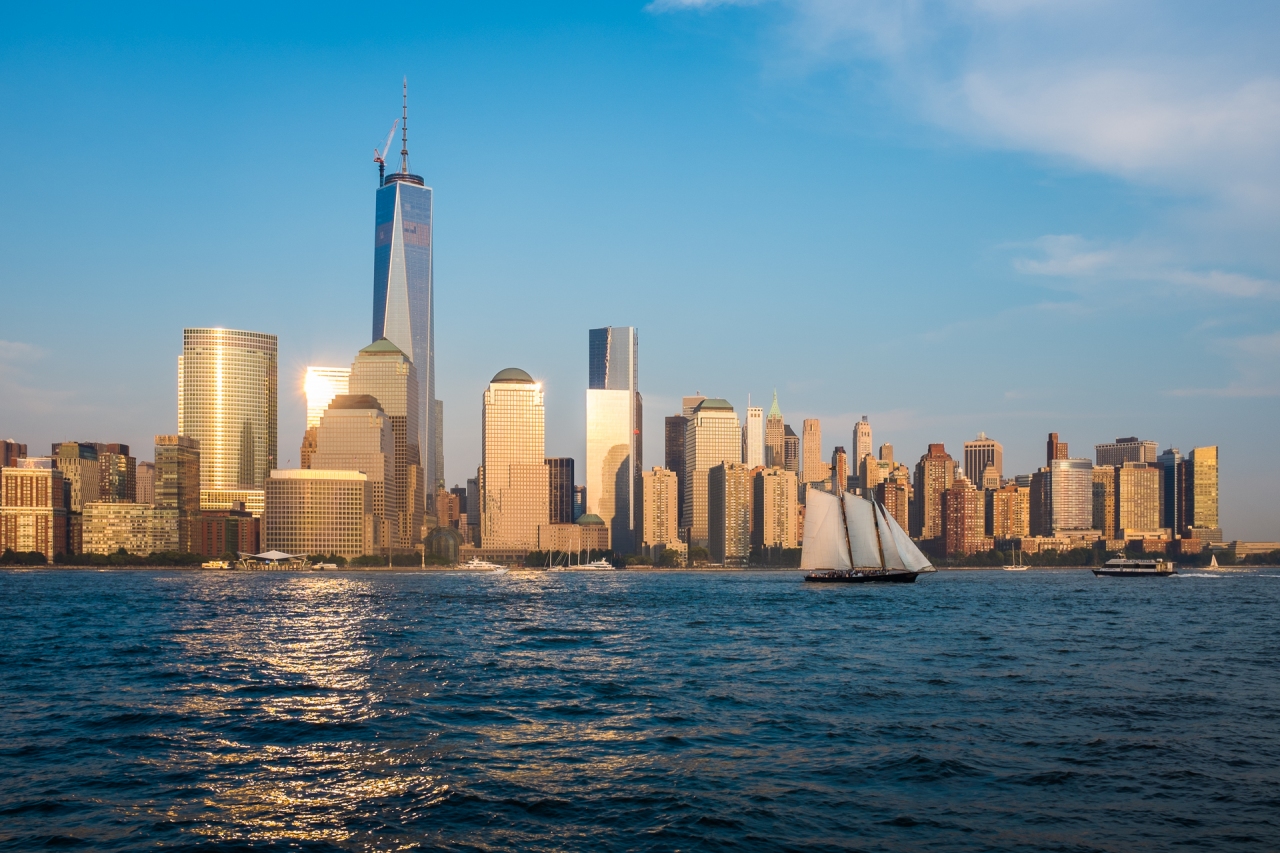 The next morning started with rain, and not just some light drizzle, but some heavy showers, so going out for breakfast was not as easy as planned. At the end we did not manage to get pancakes :( as the place we had picked online was packed with people (with several families waiting to get seated), so we ended up in a French-styled bakery, which was ok. It seems we have no luck with walking on the streets of Jersey City with luggage, since now we had to struggle through heavy rain (with one umbrella for the two of us), but at least our new bag did its job (rolling) well. Then from the PATH station the journey to the airport went very smooth (PATH, subway, AirTrain to JFK), except for the unbearable heat in the subway tunnel (in contrast with the ice cold air-co inside the subway cars). Check-in was also uneventful (except for the French family who just realised next to us that they left their passports in the taxi…), then after going through security, we still had some nice wok for lunch, then spent our leftover cash on sweets :) The flight was again uneventful (watching movies instead of sleeping), leaving at sunset, and arriving right after sunrise in Brussels. We were home very quickly, but then struggled with the jet lag all weekend… I went cycling with my group on Sunday morning after two hours of sleep, which was pretty painful :D To sum it up, we were very happy with our holiday!