2015 was quite an amazing year on the bike. I have never ridden so much, so far, so long, and with so much elevation gain before. The main themes of the year were definitely epic (solo) rides and new roads. I have ridden also much more alone, because this year I did not join WTCOOL anymore. This is likely to change again next year as I have recently joined Squadra Tornado, a more racing oriented team. The past two months I have already ridden with them on Saturdays. Besides these trainings, I did most of my rides solo in this year's interbellum, or with Willem, who joined me quite a few times.
Memorable events from 2015 (before we jump into the raw numbers and figures):
I spent February working and cycling in Santa Barbara (Southern California, USA), and thanks to the warm and dry weather (similar to an average May/June in Belgium, but without the rain), in just 3 weeks I biked enough to make this month my 2nd best month ever on the bike (and my best month in sports if you add the three 10k runs I did before and after all the cycling).
I bought a new road bike, a Canyon Ultimate CF SL 9.0 Di2. Since the beginning of March, I have ridden almost 9500 km with it, and I am extremely happy with the purchase. It's a beautiful machine.
I started to use a power meter on the bike, and although I would not go for the same Garmin Vector system again (because now there are better options in this fast evolving and still very young sector), I am happy to learn from all the data I record with it. (So now I know that I sprint quite good but my functional threshold power kinda sucks.)
I did many epic rides, some alone, some with a few other guys, and one in a larger group to the coast and back just like last year. This Heverlee – Knokke – Heverlee ride was my longest ride ever with 333 km thanks to the small extra I did at the end (which made some people question my sanity). Other memorable epic days mostly on new roads include: a solo century around Santa Barbara with summer temperatures, an epic climb, and 5 bottles of water; a 223 km ride to Geraardsbergen in a company of six; 173 km of climbing through the Province of Namur with Willem over 2500 metres of elevation gain, a masterpiece of route-planning; Catching the Tour de France in Namur with Willem, not an extreme long ride, but very nice route, and just a day after coming home from observing on La Palma, so I totally died by the end; a 202 km solo over the Mur of Huy and the Citadel of Namur (a ride of total mental madness); and nicely fitting into the list of epic rides to epic climbs, a 210 km solo to Valkenburg (Cauberg) and back. In total I had 5 rides over 200 km, and 11 rides that qualify as at least a century (100+ miles).
I have finished one very special challenge on Strava, the Rapha Festive 500, that challenges participants to ride 500 km on the eight days between Christmas Eve and New Year's Eve. Normally we go to Hungary for Christmas, but this year we stayed in Belgium, so I thought I would give it a try. Although I got soaked twice, and almost blown off the road by the crazy wind a few times, I managed to complete the challenge with 6 rides in 7 days. The fact that the average temperature was more typical for April than December helped a lot of course ;) Thanks to the weather conditions and this challenge, I closed off December with 1095 km on the bike. That's insane for a winter month (in Belgium, not in Southern California), and it is more than I biked in the previous 5 Decembers, combined.
And then the raw numbers for my cycling – without the daily commutes of course – in 2015:
Total distance: 11326 km
Total elevation gain: 70307 m
Total time: 400h 17m
Activity count: 140
Average speed: 28.3 km/h
Average heart rate: 152.6 bpm (max: 193 bpm)
Average cadence: 91 rpm
And here are the figures, coming up first the maps of cycling in Belgium, with a zoom in to the area around Leuven to show my most taken loops more clearly, and also a map of the biking I did around Santa Barbara.
Then here are the charts of the yearly progress in terms of distance and elevation gain, followed by – in both cases – a calendar view of the same metrics. (Figures from VeloViewer.)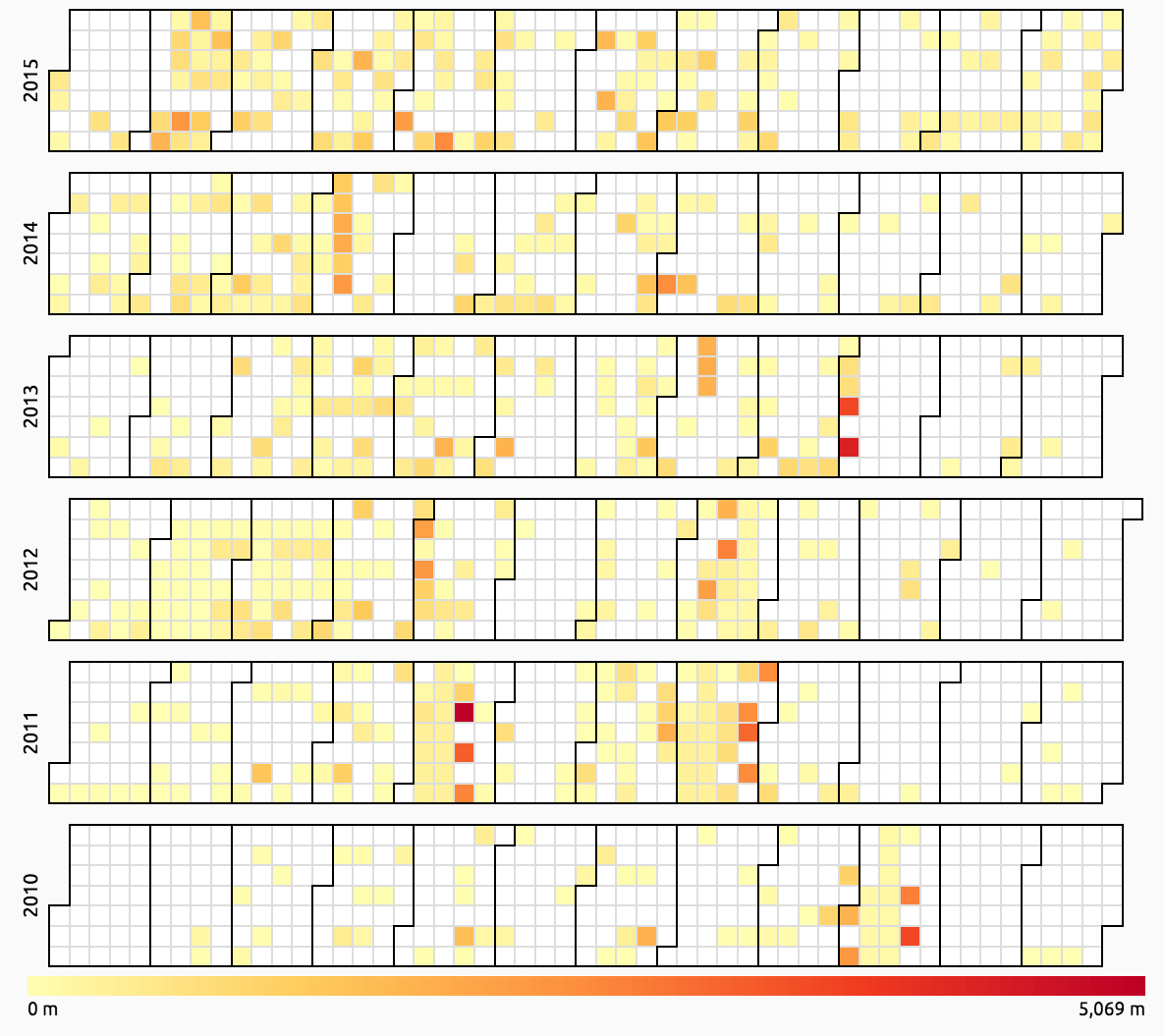 Then here is a figure from Golden Cheetah showing my Performance Management Chart since I have a power meter.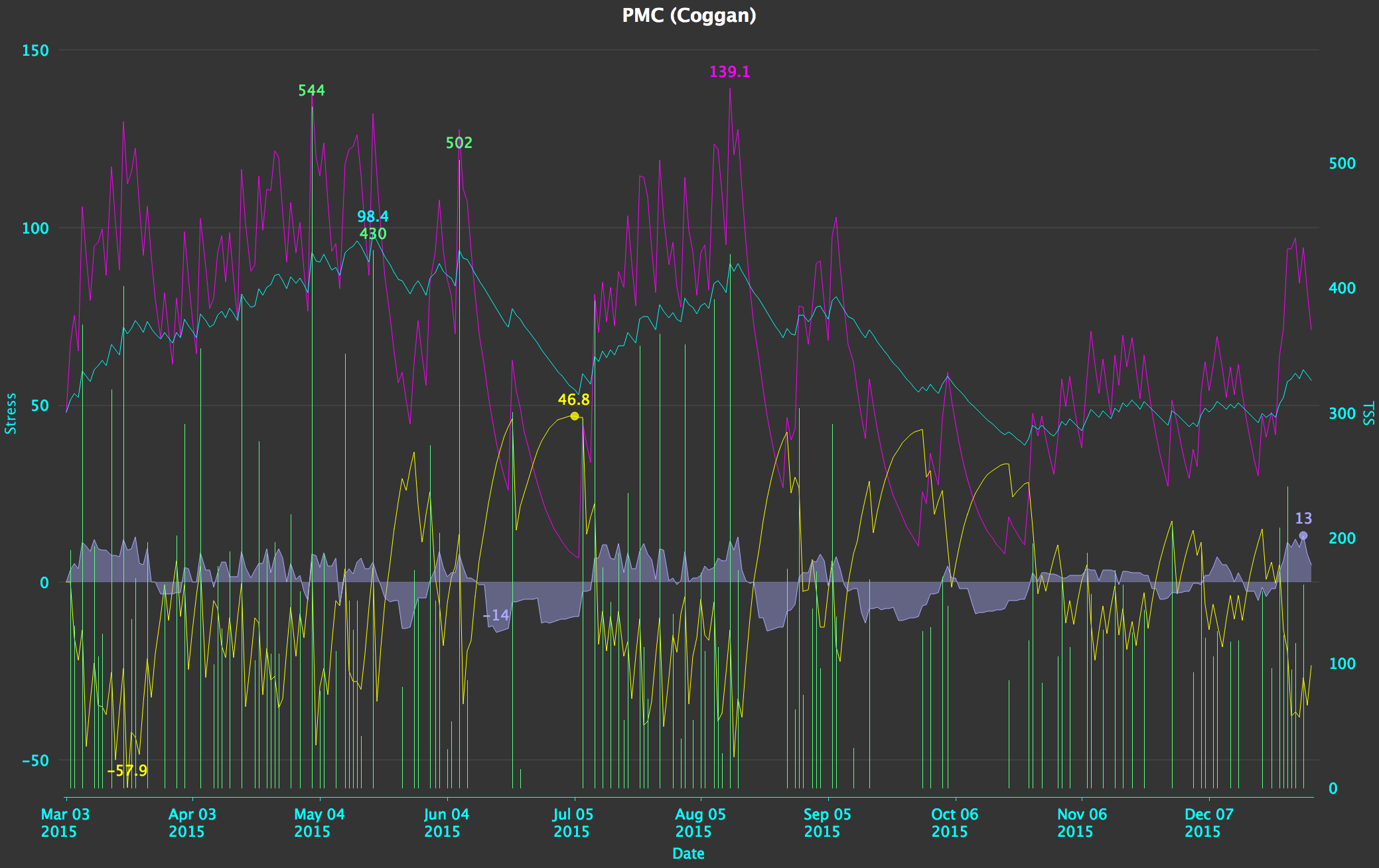 Then here I my statistics grouped by the 4 bikes I have ridden this year.
Concerning the social aspects, as I have already mentioned, this year I did many more solo rides compared to 2014. Out of the 140 activities, only 29 were not solo rides, and out of these only 19 were rides where I was riding with more than one person. When I was not alone I rode most often with Willem, on a total of 24 rides (a sum of 79 hours).
I did not want to put it on the list of memorable events, but this year I started using Rapha products. They are on the more expensive side, but the quality and the service is so good, the bibs are so comfortable, and the design is so clean and stylish, that it is totally worth it. I even tested their free repair service and it has exceeded my expectations (big time). So, if anyone needs a present idea for me, Rapha vouchers are always highly appreciated ;)
I have also ran 401 km this year (with quite some trail running on La Palma), and did some hiking with Clio, so at the end I had a total activity time of 451 hours (up from 350 hours in 2014). I am fully satisfied with that, and I am happy with all the achievements (see list of Strava challenges completed below) along the way.

I always wanted to have one year when I bike more than 10000 km, so now that I have achieved that, my goal for 2016 is more about quality, and not about quantity. I hope that in 2016 I will have even more self-supported epic rides, some good structured trainings, and maybe even a few races. The most important goal is to have fun on the bike :)