Yesterday – after my poster for the upcoming XXII Canary Islands Winter School of Astrophysics was finished and printed – I went to Brussels with a couple of colleagues/friends, to celebrate my 100th Belgian beer. Some of us even had a dinner on the Grote Markt before we moved (in the rain) to the famous Delirium Café. Why is it famous? Because this bar has the most varieties of beer (2004 to be precise, and the majority of them is Belgian) commercially available on the whole planet. It is included on the list of the Guinness World Records!
It is an extremely nice bar indeed (just a bit smoky, but not that bad), with the beer cards/plates/logos all around the place, and barrels used as tables. One might find it difficult to choose from a selection of two thousand beers, but I was prepared. After my visit to Westvleteren last weekend, I spent some time on the internet, and listed some of those high-rated beers which I have not yet tasted, and which might be hard to find outside this bar. So the first beer (and so my 100th Belgian beer – se it without and with me on the pictures below) we had was a special old cherry beer, the Cantillon Lou Pepe – Kriek 2004. Very different from anything else I had before, with a complex, layered taste, strong smell, and natural color. Good choice.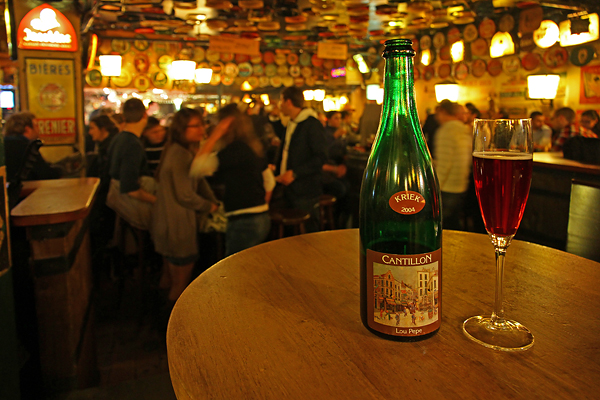 The next one, with a shocking deep and dark, heavy taste and smell, was the Gouden Carolus Cuvée Van De Keizer Blauw 2005. One of the greatest (and strangest) beers I ever had, it is worth reading some reviews on it here, because I can not describe it well enough. Then came the Chimay Grand Réserve 2008, which was a bit similar to the previous one, but made by the monks :) Again a complex, world class beer. Then to move a bit away from the heavy, dark colors and smells, we had a Chimay Cinq Cents. It has fruity notes of muscat and raisins in its taste ;)
The last two beers were not that special, though the quite new and "nothing can be found about it on the internet" l'Outre-rue – Bière Urbaine was still well above the level of the average and bit boring Omer Traditional Blond. We had to leave after this to catch the last train back to Leuven – leaving from Brussels Central Station a couple of minutes after midnight. Back in Leuven we decided to have one more beer on the Oude Markt (just a light Lindemans Apple for me). It was a very nice evening, with good food, good beers, and good company! After a good – and long – sleep, today I submitted my first paper!
Disclaimer: we spent almost four hours in the Delirium Café, and shared 75 cl bottles with 6 people, so no one get hurt/drunk during the evening. And here is the list – in chronological order :)
01 Rochefort 8
02 Duvel
03 Orval
04 Grimbergen Dubbel
05 Rochefort 10
06 Steenbrugge Blond
07 Brugge Tripel
08 La Chouffe
09 Stella Artois
10 Schuppenboer Tripel
11 Schuppenboer Tripel 2009 (*different label and taste)
12 Malheur 8
13 Girardin Gueuze
14 Larumse Corneel 2004
15 Früli Aardbei
16 Bios Vlaamse Bourgogne
17 Tempelier
18 Achel Bruin
19 Boerinneken
20 Jupiler
21 Rochefort 6
22 Kwak
23 Hapkin
24 Westmalle Tripel
25 Rogier
26 Mc Chouffe
27 Westmalle Dubbel
28 Corsendonk Pater
29 Corsendonk Blond
30 Palm
31 Hoegaarden
32 Chimay Wit
33 Chimay Rood
34 Lucifer
35 Saison Dupont
36 Hopus
37 Chimay Blauw
38 Nen Engel van Domus
39 Ciney Bruin
40 Ciney Blonde
41 Grimbergen Cuvee de l'Ermitage
42 Tongerlo Prior
43 Tripel Karmeliet
44 Bush Amber
45 Brigand
46 Cuvee des Trolls
47 Bierbeekse
48 Grimbergen Blond
49 Vedett Extra Blond
50 Affligem Blond
51 Affligem Dubbel
52 Affligem Tripel
53 St. Bernardus Abt 12
54 Cristal
55 Park
56 Hoegaarden Grand Cru
57 Kasteel Bruin 2009 (and 2010 later on)
58 Maes
59 Leuvenese Tripel
60 Tongerlo Blond
61 Achel Blond
62 Villers Tripel
63 Villers Oud Vielle
64 Maredsous 8
65 Kessel Blond
66 Hommelbier
67 Kasteel Rouge
68 Kasteel Triple
69 Belle-Vue Kriek
70 Leffe Bruin
71 Hoegaarden Rosée
72 Hoegaarden Citron
73 Malheur 12
74 Judas
75 Kasteel Blond
76 De Verboden Vrucht
77 Nen Tripel van Domus
78 Con Domus
79 Delirium Tremens
80 St. Feuillien Bruin Réserve
81 Vedett Extra White
82 Leffe 9
83 Augustijn Donker
84 Chapeau Banana
85 Pannepot 2009
86 St. Feuillien Tripel
87 St. Feuillien Blond
88 Barbãr Winter Bok
89 Gusto 1833 Ruby Red
90 Leffe Radieuse
91 Kriek Boon 2009
92 Mort Subite Kriek
93 Mort Subite Kriek Xtreme
94 Lindemans Kriek
95 Timmermans Framboise
96 Leffe Kerstbier
97 Grimbergen Goud
98 Westvleteren 12
99 Westvleteren 8
100 Cantillon Lou Pepe – Kriek 2004
101 Gouden Carolus Cuvée Van De Keizer Blauw 2005
102 Chimay Grand Réserve 2008
103 Chimay Cinq Cents
104 l'Outre-rue – Bière Urbaine
105 Omer Traditional Blond
106 Lindemans Apple